Latest Libel: The IDF Shot Bilal Rawajba, PA Member and "New Father", in Cold Blood
Quds News Network (and others) have alleged that Israel killed in cold blood Bilal Rawajba – "a legal consultant in the Palestinian Authority's Preventive Security Service" no less – providing some video footage of the incident as "proof"
Bilal Rawajba, a 29-year-old Palestinian man, was killed today in the occupied West Bank by Israeli occupation forces.

Belal was shot in his car near an Israeli military checkpoint in Huwara town in Nablus when he was expected to drive from home to his workplace on Wednesday.

Belal was a legal consultant in the Palestinian Authority's Preventive Security Service in the Tubas district, and lived in a village outside Nablus.

The video footage of the killing moments shows that Belal posed no threat to the Israeli forces. However, an Israeli military spokesman said that Belal fired a pistol at the Israeli forces, but no Israeli casualties were reported.

https://www.facebook.com/163904570396800/videos/1488328251363857/

The Palestinian Red Crescent said that the Israeli occupation forces prevented them from giving first aid to Rawajba, and that his body is in Israeli custody and could not immediately be retrieved.

Belal became a father to a daughter two months ago. With Israeli occupation forces bullets, his daughter, Jwan, becomes an orphan now.
The photo accompanying this and many other such reports is of the man holding his newborn baby.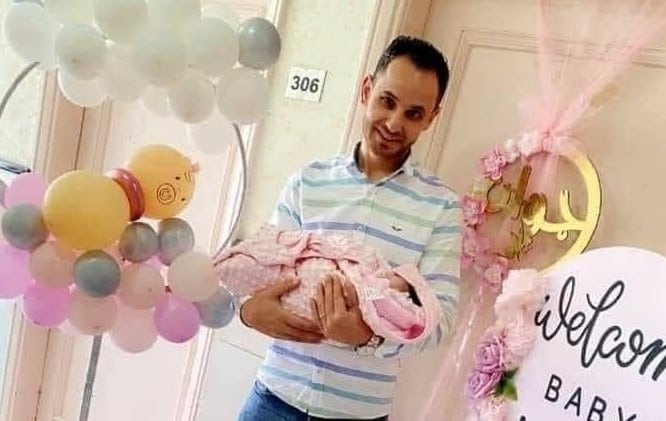 The IDF alleged he had opened fire at troops first.
The first clue that the IDF was probably telling the truth and QNN and others lying was this Facebook photo of the man posing with two of his other "babies."
Then security camera footage of the incident was released verifying the IDF version of events
Here is your 'innocent' terrorist approaching a checkpoint and opening fire on the IDF soldiers. Bella al-Rawajba was nothing more then a Palestinian terrorist who challenged the IDF and lost! pic.twitter.com/zFx1LvF2ll

— ron east (@canadasheli) November 4, 2020
Case closed.