The Only Thing Israel-Hater Richard Silverstein Seems Capable of Googling Are His Eyes
Poor anti-Israel DouchebloggerTM Richard Silverstein.
Despite claiming he is a journalist and expert on all matters….well, all matters – he can hardly get anything right.
The latest example of this is this tweet of his earlier today
He's responding to this
The website behind this is Stop Antisemitism. It has nothing to do with David Collier, the investigative journalist behind the Mishtal Twitter account. His website is proudly linked to from aforesaid Twitter account.
Some simple Googling and Silverstein would have discovered the person behind Stop Antisemitism is Liora Rez. It is not a secret and has been covered extensively in the Jewish media.
Heck, she was even on this well publicized list of top Israel advocates from last week.
And it's not like the Stop Antisemitism website hides it
So where did Silverstein get his information that David Collier was behind the site? Probably antisemitic conspiracy theorists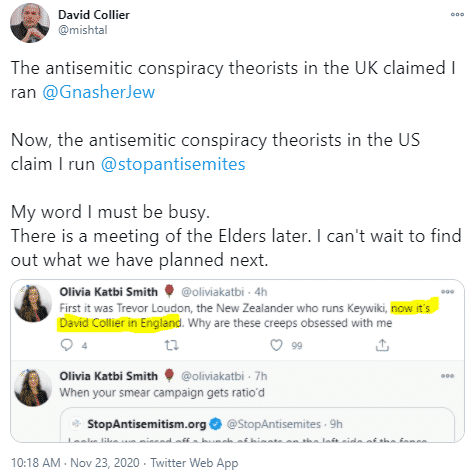 So once again, Silverstein has posted a lie. And I honestly can't keep up with this list anymore.
By the way, Liora, one of these days you might want to feature Silverstein as Antisemite of the Week.