CUNY Receives a Failing Grade in Antisemitism
"New York legalizes pedophilia since Jews must suck on baby penises."
"The Israel lobby manufactures antisemitism…"
These quotes are from articles circulated by students at Silberman School of Social Work at Hunter College, City University of New York. The first quote, specifically, was posted by a student on a Facebook group for Silberman students and alumni. The article was from a neo-Nazi website called jewishproblem.com and, in addition to describing Jews as sucking on "bloody" babies, the article referred to Jews as "pest[s] to be exterminated." As Jewish students expressed their horror, many of their peers defended the post as a way to "begin a discussion" and encouraged readers to "look at ourselves and how we interpret this." Another student stated "I think that someone in social work school should cruise all types of websites" in order to be "culturally aware."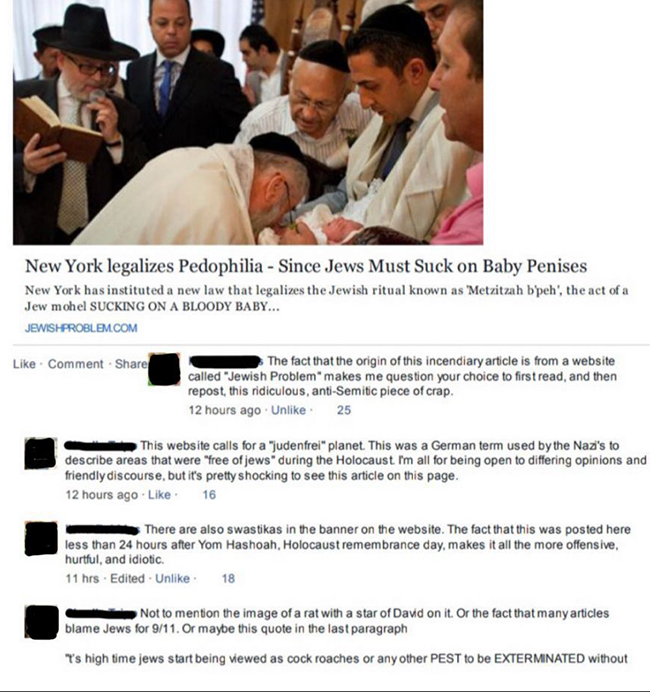 While this was unfolding on social media, a swastika was discovered etched in one of the school campus bathrooms (a swastika which was described by a staff member as "small," "tiny" and "virtually unnoticeable." Except that it was noticeable to the Jewish student who reported it). Jewish students informed administrators in an attempt to sound the alarm that the school is churning out antisemitic social workers.
All this was back in 2015.
Since then, Jewish students and alumni have regularly come forward describing different ways in which they have experienced antisemitism from faculty and peers – from teachers ignoring requests to refrain from assigning course work right before the Sabbath to students calling Jews "white supremacists" and accusing Jewish students of "playing the Holocaust card." Students and alumni have also identified problematic reading materials that ignore history and appallingly suggest antisemitism is perpetrated due to the Israel/Gaza conflict.
Most recently, Jewish students were targeted at a virtual anti-Israel protest during which some students and faculty co-opted a mandatory class, and changed their Zoom backgrounds to Palestinian flags and their names to "Free Palestine: Decolonize." Anti-Israel students and faculty took over the class with chants and read a script calling out Israel as the "oppressor" engaging in "settler colonialism and apartheid." In the Zoom chat, things took a turn for the worse and there were accusations of "anti-semitism as the fear that 'this could happen again' is being used preemptively to oppress and kill others."
As some participating faculty members and students obscured their identities by using the same filter and username, who exactly was posting antisemitic comments (professors, students or both) is anyone's guess. Of those faculty members who did not participate, not one thought to remove offending users, mute mics or turn off comments.
Semester after semester, Silberman School of Social Work has failed its Jewish students due to inaction. The following is a list of actions Jewish students have suggested to the Silberman administration:
1. Issue a statement defining and condemning antisemitism.
2. Investigate incidents of antisemitism and hold offending students, faculty and staff accountable.
3. Revise non-discrimination and anti-harassment policies to include a definition of antisemitism.
4. Require vigorous de-escalation and conflict-resolution training for all staff.
5. Host trainings that center on the jewish experience and antisemitism in its myriad forms.
6. Offer alternate dates for required classes held on Saturday to accommodate observant Jews.
7. Review current course material and replace those that express blatant or covert antisemitism.
The administration has yet to implement even one of these resolutions as a demonstration of good faith in the initiative to ensure a safe environment. Until then, Jewish students remain afraid to return to class.