Haters Triggered by 'Avengers Cast and Their Country' Graphic
Earlier this week, a Facebook page called Marvel Cinematic World – a fan page for MCU lovers, with over 1.8 million followers – posted this graphic of the cast of the Avengers movies and their countries of origin.
Needless to say, some Jew-haters were well and truly triggered by the flag on the photo of Natalie Portman. The fact she has been highly critical of Israel (wrongly so, but she's no antisemite) means nothing to them.
Allow me to further burst their bubbles:
'Iron Man' Robert Downey Jr had a Jewish father, he got married to his Jewish wife in a Jewish wedding ceremony
and they gave their daughter a Hebrew name.
'Captain America' Chris Evans played a Mossad agent in the Red Sea Diving Resort.
'Ant Man' Paul Rudd is Jewish and he has stated his father was "very pro-Israel."
'Vision' Paul Bettany has a Jewish wife and kids, and has spoken out against the antisemites:
'Dr Strange Benedict Cumberbatch's company cut business ties with Mokhzani Mahathir over his father, Malaysian PM Mahathir Mohamad's antisemitic comments.
'Nick Fury' Samuel L. Jackson hearts Israel:
And of course there is 'Black Widow' Scarlett Johansson, who took on the BDS bullies
Sure they have Israel-hater 'Incredible Dolt' Mark Ruffalo
but it looks like, from this montage, that he supports Israel!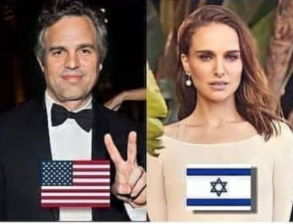 Update: They are not in the graphic, but Stan Lee was Jewish, and Avi Arad is Israeli.