Let's Not Dilute the Meaning of the Word "Antisemitism"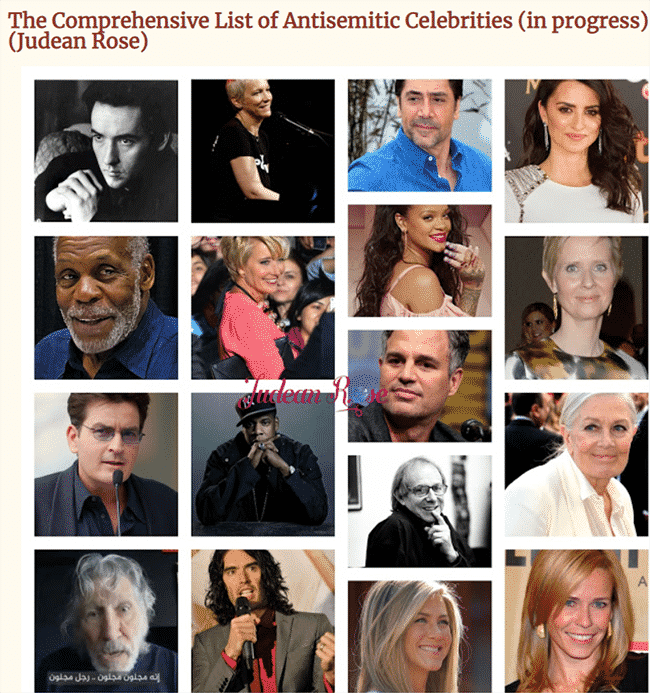 Blogger Varda Epstein, a contributor on the excellent Elder of Ziyon blog, has posted The Comprehensive List of Antisemitic Celebrities (in progress).
On it are some antisemites you will be familiar with already, either from this blog or elsewhere; people like Roger Waters, Ice Cube and Gild Atzmon, who have clearly proven themselves to be so.
But lumped with them are celebrities like Natalie Portman, Sarah Silverman, and Jennifer Anniston.
Before I go on, let us all remember that the word "antisemite" means "Jew-hater."
Natalie Portman is Jewish and actually holds dual Israeli and American citizenships (not that it precludes her from being a Jew-hater, since Israeli-born Gilad Atzmon has proven himself to be one). She is included on the list because of her decision to snub the Genesis Prize award ceremony in Israel so as not to appear to be endorsing PM Netanyahu.
Abhorrent, absolutely. A Jew-hater, no.
At the time, she said
"I am not part of the BDS movement and do not endorse it…Like many Israelis and Jews around the world, I can be critical of the leadership in Israel without wanting to boycott the entire nation. I treasure my Israeli friends and family, Israeli food, books, art, cinema, and dance."

—

"Israel was created exactly 70 years ago as a haven for refugees from the Holocaust. But the mistreatment of those suffering from today's atrocities is simply not in line with my Jewish values. Because I care about Israel, I must stand up against violence, corruption, inequality, and abuse of power."

She added that she planned to privately "support a number of charities in Israel" which she would be announcing soon.
Are these the words of a Jew-hater?
Portman has also expressed some other terrible views on Israel. Again, this does not render her a Jew-hater.
Varda Epstein's response?
Is Portman leveling accusations against the democratically elected leaders of other countries? Is she turning down awards from other countries based on what she thinks about their leaders?
From: https://www.holocaustrememb…

To guide IHRA in its work, the following examples may serve as illustrations:

Manifestations might include the targeting of the state of Israel, conceived as a Jewish collectivity. However, criticism of Israel similar to that leveled against any other country cannot be regarded as antisemitic.
Her litmus test is criticism of Israel is always antisemitism if the person only criticized Israel and no other countries. This is not the meaning or intent of the IHRA provision she quotes.
Manifestations might include the targeting of the state of Israel, conceived as a Jewish collectivity. However, criticism of Israel similar to that leveled against any other country cannot be regarded as antisemitic.
Portman was not targeting Israel as a Jewish collectivity. She believes in the Jewish state. She was criticizing our leader and certain policies. It is criticism "similar to that leveled against any other country."
The fact Portman has not criticized another country (as far as I am aware) does not automatically render her a Jew-hater either. She was responding to being awarded the Genesis Prize, which she felt required her to come to Israel and be seen to "be endorsing PM Netanyahu." Again, I detest her decision, but do not for a second see her as a Jew-hater because of it. She does not incessantly criticize Israel (to the exclusion of other countries) as we see from the real Jew-haters like Roger Waters.
Sarah Silverman is another Jewish celebrity on the list. She was included because she called for 'Shirley Temper' Ahed Tamimi's release from prison.
While this makes me sick, this alone does not render her a Jew-hater.
What's more, Silverman even once retweeted this video of how anti-Zionism is the latest incarnation of antisemitism.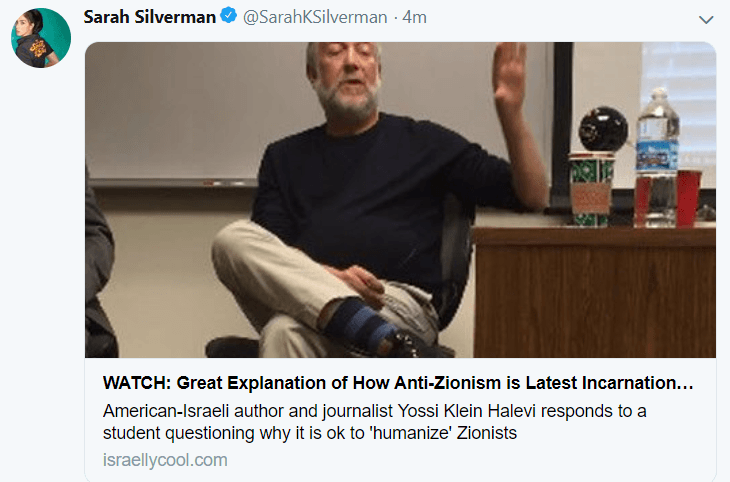 Hardly the words of a Jew-hater (and no, I am not just saying that because she retweeted my post; I have been highly critical of her on here and detest her politics)
I'll end with Jennifer Anniston, since her reason for being included on the list was entirely different: she liked Chelsea Handler's posting of a Louis Farrakhan video.
There is no question Farrakhan is himself a vile Jew-hater. Whether or not Jennifer Anniston knew this is anyone's guess. But we cannot just assume so and call her an antisemite. In all likelihood, she jumped on board the virtue signaling bandwagon because of the Black Lives Matter protests, and liked the post on the face of it. The mere liking of the post is not proof of Jew-hatred.
Anniston has no history of antipathy towards the Jewish people (or even Israel for that matter). In fact, her great friends and co-stars Lisa Kudrow and David Schwimmer are Jewish (When I asked whether Anniston would hate them, Varda Epstein's response was "No. She probably thinks they are "white Jews."")
She's also very close with proud Jew and Zionist Adam Sandler.
As someone who is constantly calling out antisemites by providing incontrovertible proof of their Jew-hatred, and as someone who is fully aware that in at least 95% of cases, anti-Zionists are antisemites, the criteria for inclusion on this list has rubbed me the wrong way.
Let's not dilute the meaning of the word antisemite (Jew-hater). Doing so harms our credibility and cause.