The Really Disturbing Thing About Comedian Dave Chappelle's Antisemitism
Many years ago, comedian Dave Chappelle – one of my favorite comedians – did this bit about Michael Richards, the actor who played Kramer on Seinfeld and who subsequently pretty much destroyed his career after a racist, anti-Black tirade.
That set was over 10 years ago, and it might seem that Dave Chappelle – one of my favorite comedians – has decided to have his 'Kramer moment'
Let's break down what Chappelle seems to be suggesting with these 'jokes'
Jews are aliens, not quite human anymore
Things go terribly for the Jews on the other planet (shades of how we have been persecuted here and kicked out of almost all countries at some point in history, something antisemites love to bring up)
The Jews want to take over the earth and claim it as our very own
Or alternatively to take it more allegorically: the Jews left Israel, things went bad for us in other countries so we tried to reclaim the land as our own
The Jews were successful and cruel slaveowners
The Jews, who endured slavery and hardships, are perpetuating the same evil on others that look like them (the palestinian Arabs)
What disturbs me about these jokes goes beyond my huge disappointment that Dave Chappelle – one of my favorite comedians – seems to be a raving antisemite. I guess the signs have been there for a while, and I just didn't pay enough attention to them.
I also just discovered he recently launched a podcast with Talib Kweli, and Yasiin Bey. Kweli is a vile Jew-hater who has even gone after me online, while Bey, formerly known as Mos Def, is "pro Palestine."
No, for me, the most disturbing thing are the reactions to these vile jokes, way beyond the enthusiasm of the audience, which Eric Deggans of NPR notes:
Chappelle is considered the Greatest of All Time among many comedy fans — he says it about himself, wryly, toward the end of the special — and The Closer finds him surrounded by an enthusiastic audience in Detroit ready to go wherever he takes them.

That much is obvious, early in the special, where he talks about an idea for a film centered on an ancient civilization that discovered space travel, left the planet and then came back, determined to claim the Earth for their own. His punchline is the title for the film: Space Jews.

Even the adoring audience in Detroit took a breath on that one. "It's gonna get worse than that," Chappelle retorts, laughing. But I'm not sure it did. Because that was pretty awful.

Coming from Chappelle, a joke like that felt like a dare. He knows, in the moment, that such a punchline will briefly break the spell he has on the audience, make them rethink their allegiance to him, at least for a second. And he'll have to work a little to get them back on his team again — which he does.

(He also knows reviewers like me will quote the joke and criticize him for it, which I am. I don't really care what point he's trying to make; a joke that sounds like antisemitism gets a hard pass from me.)
Online, many understand what Chappelle was insinuating – and are down with it.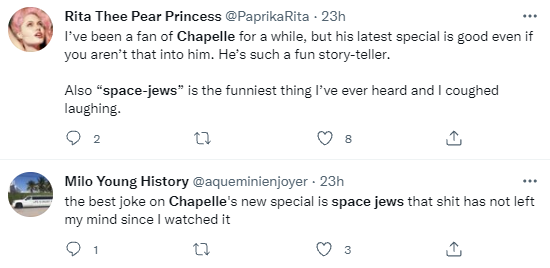 CNN reports that Chappelle landed in hot water over the special, but not because of his antisemitic 'joke' of course, rather his anti LGBTQ jokes. So does NBC News and others. In fact, the conservative outlet The Blaze almost applauds Chappelle for the very same thing, while ignoring the antisemitism, only mentioning it in passing.
Others also bypass the antisemitism, including Fox News, and USA Today.
So Chappelle's antisemitic joke is really not his 'Kramer' moment at all. His career will be just fine for that, although perhaps not over the anti-woke jokes.
For me, his antisemitism and the reactions to it reinforce just how hatred of Jews is not even not taboo in much of society anymore, but is actually what all the cool kids are doing these days.
And that's not just unfunny; it is terrifying.