Mohamed Hadid Engaged in Illegal Settlement Building
Last month, Israel-hating celebrity real estate developer Mohamed Hadid posted this humble brag on Instagram: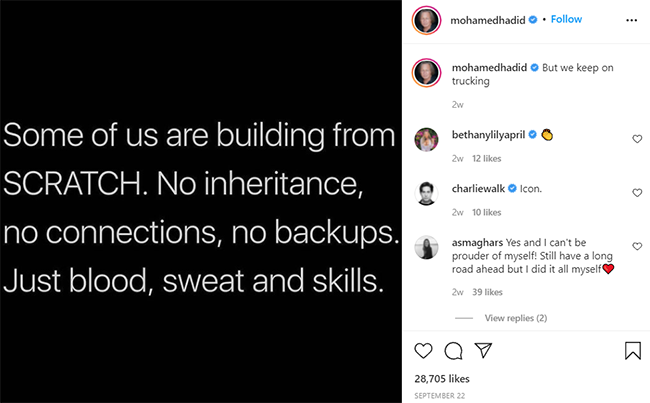 About that "building from scratch":
Real estate developer Mohamed Hadid must do community service, pay fines and put forward a plan to stabilize a Bel-Air hillside after pleading no contest to criminal charges tied to a mammoth mansion in the hills of Bel-Air.

It remains undecided whether Hadid will be required to secure a bond to cover the costs of tearing down the roughly 30,000-square-foot house if it cannot be legally finished. The fate of the mansion will depend on whether Hadid can get city approval to continue construction.

"We're interested in one thing and one thing only … bringing this building into compliance," his attorney Robert Shapiro told reporters Thursday after a sentencing hearing. "I can assure you that when this building is complete, it will be one of the most beautiful homes in Bel-Air, if not the country."

Hadid was accused of illegally building a colossal home that was bigger and taller than city rules allowed. The Strada Vecchia Road mansion had bedrooms, decks and an IMAX theater that the city said were never approved, according to court documents filed by prosecutors.

Los Angeles officials demanded a halt to construction three years ago and later yanked permits for the home. But the building department said that construction continued illegally on the massive house, defying the city order.

At Thursday's hearing, Superior Court Judge Eric Harmon imposed three years of probation under a host of requirements, including more than $3,000in fines, 200 hours of community service and payment of more than $14,000 to the city to cover building department costs, along with an additional amount yet to be decided to the Los Angeles Department of Water and Power.

Hadid must also hire an engineer to craft a plan to stabilize the hillside. At the hearing, Harmon said the developer needed "to fix it and fix it soon."

"It's not fair to have mud and water running through a neighborhood for years on end," the judge said, referring to complaints from neighbors about dirt tumbling down the hillside.

—

Neighbors said they feared that the hillside above them had been dangerously destabilized. The Bel-Air Assn., a homeowner group, urged "the stiffest financial and incarceration penalties possible," complaining that Hadid had repeatedly flouted the law and shown "zero concern for his neighbors."

—

But some neighbors who showed up in court Thursday were dismayed that Hadid would not face stiffer punishment. Steve Twining, president emeritus of the Bel Air-Beverly Crest Neighborhood Council, called the sentence "atrocious."

"He should be in jail," Twining said. "He violated the city's ordinances over and over again."
I'd say Hadid's settlement building is proving to be a real obstacle to peace in Bel Air.