Mahmoud Ahmadinejad's Terrible Few Days
If you think you are having a bad week, just spare a thought for Holocaust denier and former Iranian president Mahmoud Ahmadinejad. He came to the UAE to visit Expo 2020 – and has reportedly been forced to leave, failing in his objective.
According to a Fars News Agency correspondent, Mahmoud Ahmadinejad, the ninth and tenth heads of state, who had traveled to the United Arab Emirates to visit the International Expo 2020, was forced to cancel his trip on the recommendation of the country's officials. He is returning to Tehran.

Ahmadinejad left Dubai for Tehran at 9 p.m.

It is said that Mahmoud Ahmadinejad failed to achieve any of his goals during this trip.
It looks like this was a PR exercise for him – which, if the case, he most definitely messed up:
In a message he read out while visiting the Islamic Republic of Iran's stand and published on his Telegram channel, which has over 414,000 subscribers, the former populist president called himself "the representative of the Iranian nation" at the Expo.

He said he will carry "the Iranian nation's message of peace, friendship and brotherhood" to all other stands at the exhibition.

Some Persian-speaking media outlets outside Iran questioned his claim of representing the Iranian nation.

Ahmadinejad's telegram channel carried several photos and videos showing him with Iranian and foreign visitors taking selfies with him or greeting him at various stands.

Iranian reformist daily Arman wrote in an extensive commentary about Ahmadinejad's visit to the Expo that the former president "always likes to be in the spotlight. He wants others to talk about what he does and says."
But it got worse for him. Much worse. Rumors circulated that he visited 'Little Satan' at the Expo, which his office was forced to deny:
At least at least he didn't return with Covid.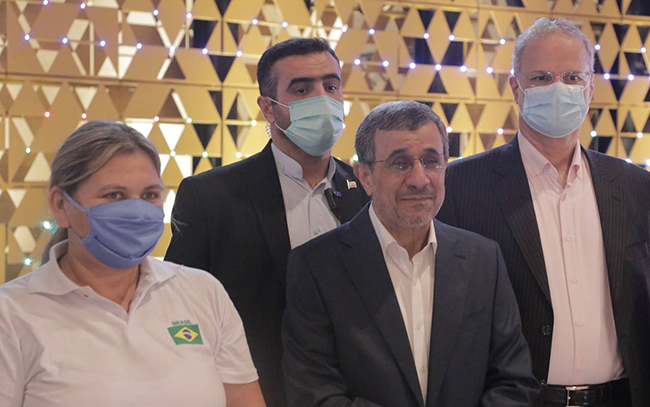 Update: Allow me to make his week worse – by spreading the rumor he even visited the Israeli stall wearing a yarmulke!