New York Times Admits It Was Duped By Palestinian Professor Refaat Alareer
Last month, the New York Times published a piece on Refaat Alareer, a palestinian Arab professor who was championing Hebrew poetry despite railing against Israel and supporting terrorism on social media.
Here was an appreciation of one of Israel's best-loved poets from a Palestinian professor at a university co-founded by the former leader of Hamas, the militant group that runs the Gaza government, does not recognize Israel, and was responsible for dozens of suicide attacks on Israelis. Experts say the study of Israeli poetry in Palestinian colleges is rare, though not unheard-of.

What Mr. Alareer admired about the poem, "Jerusalem," he told his students, was the way it blurred divisions between Israelis and Palestinians and implied that "Jerusalem can be the place where we all come together, regardless of religion and faith."

"When I read this," he added, "I really was like, 'Oh my god, this is beautiful. I've never seen something like this. I never thought that I would read it.' And then I realized: No, there are so many other Israeli people, Jewish people, who are totally and completely against the occupation."

Mr. Alareer, 42, is not an obvious champion of Hebrew poetry.

The Israeli and Egyptian blockade of Gaza has stymied his academic career, at times stopping him from studying abroad. He has relatives in Hamas, and his brother was killed during the 2014 war with Israel. He has served as co-editor of two books of essays and short fiction about the struggles of life in Gaza.

And on social media, he frequently writes furious barrages that describe Israel as a source of evil, posts that led to the suspension of his Twitter account. In one post he wrote: "No form, act, or means of Palestinian resistance whatsoever is terror. All Israelis are soldiers. All Palestine is occupied."

But in the lecture theater, Mr. Alareer has a milder academic approach. As part of a course for undergraduates about international literature, he teaches work not only by Mr. Amichai but also Tuvya Ruebner, another prominent Israeli poet. He introduces students to "The Merchant of Venice" and "Oliver Twist," and encourages his classes to empathize with the texts' Jewish characters, Shylock and Fagin.
Alas, the New York Times have discovered that rushing to believe an Israel-hater is not a good idea.
Face, meet egg.
Editors' Note, Dec. 13, 2021:

After publication of this article, Times editors reviewed additional information that is at odds with the article's portrayal of Refaat Alareer, a literature professor at Islamic University in Gaza, who was described as presenting Israeli poems in a positive light to his Palestinian students.

In the class witnessed by a Times reporter, Mr. Alareer taught a poem by the Israeli poet Yehuda Amichai, which he called "beautiful," saying it underscored the "shared humanity" of Israelis and Palestinians. He said he admired how it showed that Jerusalem is a place "where we all come together, regardless of religion and faith."

However, in a video of a class from 2019, he called the same poem "horrible" and "dangerous," saying that although it was aesthetically beautiful, it "brainwashes" readers by presenting the Israelis "as innocent." He also discussed a second Israeli poem, by Tuvya Ruebner, which he called "dangerous," adding "this kind of poetry is in part to blame for the ethnic cleansing and destruction of Palestine."

When The Times asked Mr. Alareer about the discrepancy, he denied that there was a "substantial change" in his teaching and said that showing parallels between Palestinians and Jews was his "ultimate goal." But he said that Israel used literature as "a tool of colonialism and oppression" and that this raised "legitimate questions" about Mr. Amichai's poem.

In light of this additional information, editors have concluded that the article did not accurately reflect Mr. Alareer's views on Israeli poetry or how he teaches it. Had The Times done more extensive reporting on Mr. Alareer, the article would have presented a more complete picture.
It is even worse than this. Had the Times done even more research, they would have found not only did he pretend to like Israeli poetry, but he is an actual Jew-hater.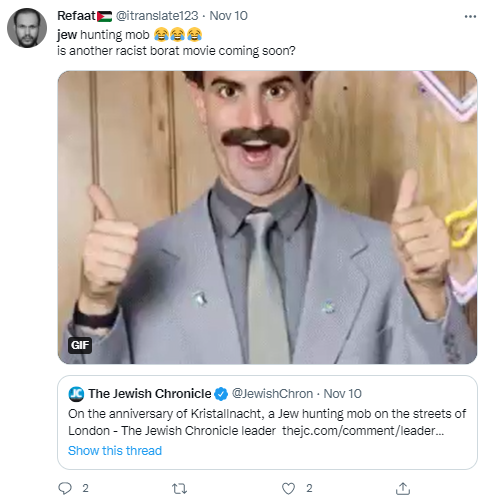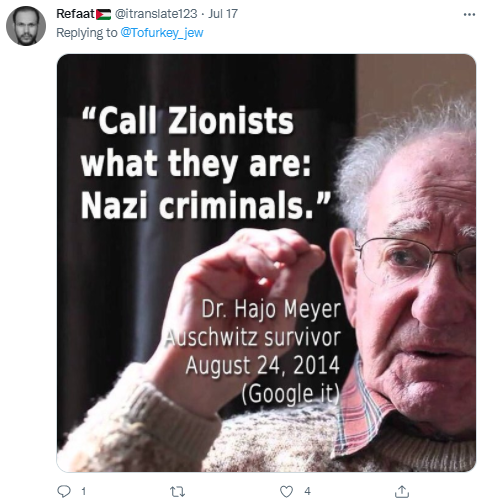 Alas, the reporter simply attended a class of his and swallowed Alareer's act hook, line and sinker. Which is what New York Times reporters constantly do when they interview palestinian Arabs for their reports.
"Had The Times done more extensive reporting… the article would have presented a more complete picture" should be an evergreen apology for most of the Times' reporting on Israel.
Hat tip: Marvin