CJ Werleman Reminds Us Again How He is an Antisemite
A few weeks ago, antisemite CJ Werleman expressed his intention to sue the Salem Media Group over a Twitchy post calling him an antisemite. I responded by providing receipts showing he is indeed an antisemite.
Since then, CJ seems to have let down his guard again. He recently retweeted the following tweet, which sloppily mentioned the "J" word instead of the "Z" word when describing a sinister, powerful "lobby."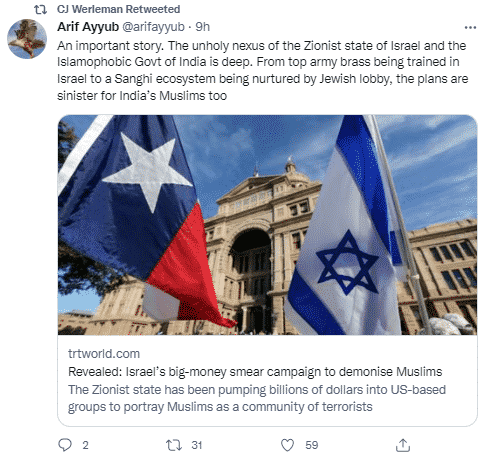 If that wasn't enough, Werleman has gone again with the Israel-Nazi comparison:
There is little doubt that Werleman is an antisemite, along with serial liar and plagiarist. Yet he continues to profit from all of this because he positions himself as some defender of Muslims against the powers of evil.