Jew-Hater Ariyana Love Struggling as More Catch on to Her Antisemitism
The last time I posted about Jew-hater Ariyana Love, I included a response from multi-level company ASEA, for whom Love was hawking their products, to complaints from readers who took my advice and contacted them. They promised they were "currently looking into her situation to determine the best course of action to take."
I haven't heard anything from them since, but on her Telegram channel, Love herself has indicated that another sales team at ASEA has gone after her!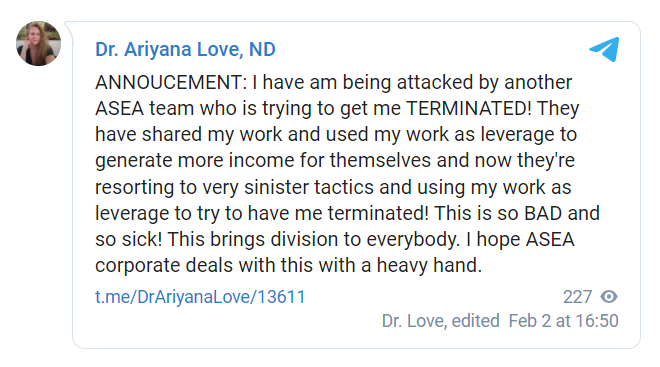 While she doesn't mention exactly how they are doing this, I can only hope they have also brought up her antisemitic posts and videos.
At the same time, Love is whining over another blogger who has discovered her extreme Jew-hatred – with thanks to yours truly: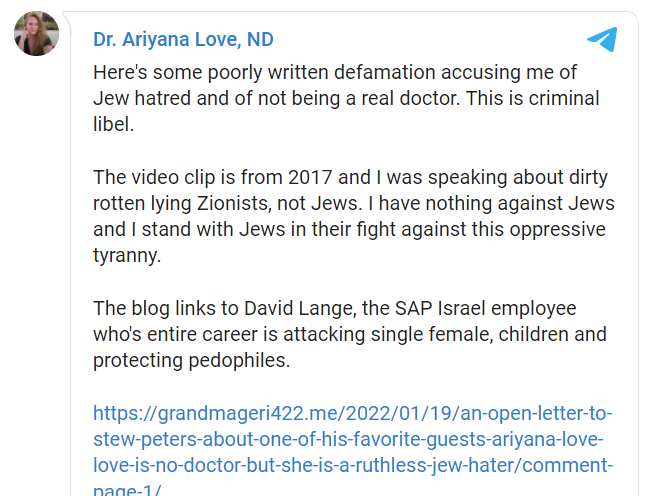 Here are excerpts from the blog post:
Brothers and Sisters in Christ: Meet the REAL Ariyana Love. She calls herself a "Doctor" perhaps she is a witch doctor??

For almost a year, I have been posting "New from Stew" videos on this Word Press. I believed that Stew Peters was a brother in Christ. I never had reason to doubt it.

But recently I was notified by a brother in Christ that Stew Peters interviewed Aryana Love, and the topic of the interview was that Israel was responsible for many of the horrific things happening in our world, i.e. the death shots.

But then the plot thickened as I found out that 'fake' doctor Aryana Love was a rabid Jew Hater and works closely with the Palestinian Authority, and writes horrid things about Israel and the Jewish people on her blog site.

I believe that Ariyana has inserted herself into the "Covid" world of Videos and interviews for a much more nefarious reason than touting her 'expertise' about the Jabs. -Don't believe it folks – EVERYTHING she speaks about concerning the Jab has already been covered and documented by experts such as Dr. Zev Zelenko and many other true experts. She simply repeats what has been said, and then presents it as her own.

I believe the reason that this woman is showing up on Stew's show and many others is because it gives her a perfect platform to disparage and demonize JEWS.

ARIYANA LOVE IS A PHONY but more than that, she is the most despicable Jew Hater who I have encountered in a very long time.

After you watch these two videos of this woman spewing her Jew hatred, please read what she posted on her Blog site. And if you need proof that she really said these things, I will (as I always do) publish the web address of her hateful site.
Here is the web address of Love's blog site ambassadorlove.wordpress I encourage the readers to go to her site and read the vicious words of this woman towards the Jewish people.

WATCH FROM MINUTE MARK 6:30:
—

STEW PETERS: I hope and pray that you are reading this article. Unless you repent and come on your broadcast and denounce everything this woman says about the Jewish people; and promise that you do NOT share her views on Israel and the Jews – I WILL NEVER publish any of your shows on my Word Press.

I will also share this article with every Conservative and Christian news outlet, so that all will be aware of Ariyana Love and her HATRED of Israel and the Jewish people!

God help you to get right with Him!
While Love already sounds batshit crazy, I am predicting she is going to ramp up the craziness – and attacks on me – as she feels the pressure mounting up.