"Attacked" Palestinian Woman is Known Agitator With History of Violence and Possible Hamas Connection
A few days ago, I posted how the haters were capitalizing on a photo of a young Israeli seemingly kneeing an old palestinian Arab woman.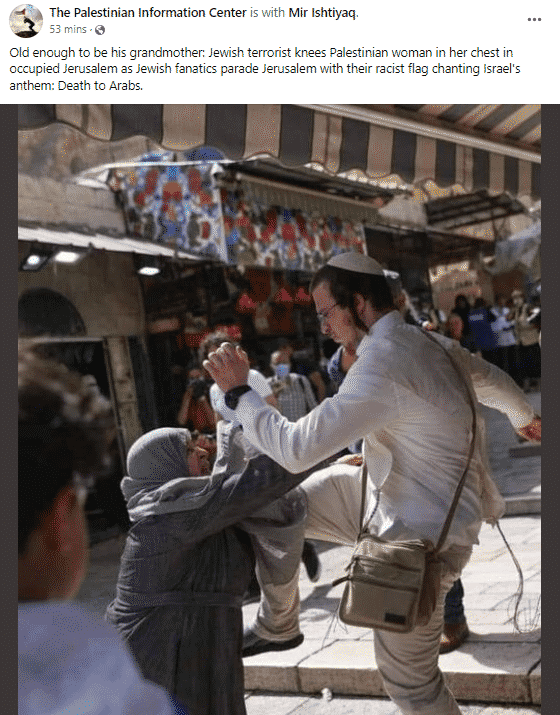 While I acknowledged that the optics on this were not good for Israel, and the young man ideally should not have reacted the way he did, the woman did seem to attack him first.
I can now confirm that this woman was engaged in other violence around the time of this incident, as this video sent to me by Israellycool contributor Uri shows (taken from here)
A clearer video showing the old lady from here: https://t.co/SmYEe1VTYG
engaged in violent behavior pic.twitter.com/aQeMJvtMzI

— (((David Lange))) 🇮🇱🇦🇺 (@Israellycool) May 31, 2022
What's more, she is a known agitator called Aida Al-Sedawi, who is part of the murabitat, an illegal Islamist political movement of Muslim women, who "keep an eye on Jews visiting the Temple Mount compound and who would be 'attempting to pray.' Women from the organization have disrupted several such attempts by shouting at the groups, cursing, and by physical assault."
I actually once posted video of them shouting that they'll defend Al Aqsa and attacking Israeli PM Netanyahu among others – with one of the border policemen respectfully asking them to keep the noise down during the Muslim call for prayer (unfortunately the Twitter account that posted the video has since been removed).
But back to Al-Sedawi, who earlier this year alleged Israel charged her for being an activist helping Hamas, and as a result held her passport and imposed a one-month travel ban against her.
I would not be surprised at all if she is helping Hamas.
What is clear is she is a known agitator with a history of violence, so there is no doubt in my mind that she went deliberately to where she knew the Israeli flag marchers would be, in order to provoke and assault. And those Israelis who reacted to her with violence played right into her hands. It is exactly what she wanted.
What is also clear is how she is someone who loves the camera and being held up as a new palestinian Arab icon:
Old and busted: Shirley Temper
New hotness: Oldie Temper.