Boston City Councilor Kendra Lara Gets Her Antisemitic Trope On
Yesterday, Boston City Councilor Kendra Lara disgraced herself with the following tweet:
The idea of being "shaken down" by "Zionists" is very much consistent with the antisemitic trope of Jews caring about, and controlling people with, money.
And what made this even worse (if possible) is the timing – right after the BDS Movement distanced itself from the Mapping Project and demanded BDS Boston and others do the same. So it very much looks like this is to what Lara was referring.
And even if we believe her that she was not reacting to something happening in Boston but rather across the country, as the ADL's Robert Trestan explained, this comes at a time when the Jewish community in Boston is feeling vulnerable and under attack.
Hours later – and following a huge backlash – Lara "apologized":
I doubt the sincerity of Lara's "apology."
Starting with "my mentions are in shambles" is hardly the way to suggest real contrition, but rather victimhood. And the controversy surrounding Ilhan Omar's "it's all about the Benjamins" tweet should have provided Lara with the knowledge that suggesting "Zionists" control people with money is an antisemitic trope.
Then there's this: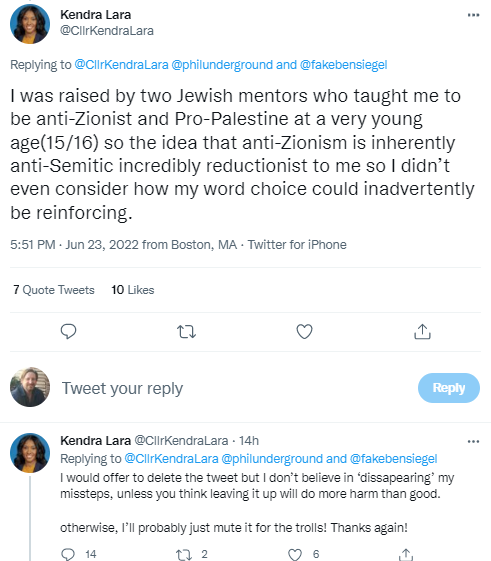 Besides the "some of my best friends are Jewish" energy of this, "otherwise, I'll probably just mute it for the trolls" paints Jews offended by her antisemitic tweet as "trolls", again suggesting she is not really contrite.
Lara did end up deleting the tweet, probably on the advise of one of her anti-Zionist Jew friends/allies/mentors.
Boston, you have a problem.
Heck, who am I kidding. The problem exists all over.
Update: Parody account Rabbi Linda strikes again!
Thank you @CllrKendraLara for your moral clarity. We need to do more to ensure anti-#Zionists don't trip on #Antisemitism pic.twitter.com/8aMMxl8Xx0

— Rabbi Linda Goldstein 🇵🇸🏳️‍🌈 (@RabbiLindaGold1) June 24, 2022