Terror-Loving Photojournalist Hosam Salem Whines Over New York Times Firing
Palestinian-Arab photojournalist Hosam Salem, who has worked for the New York Times for years, will no longer be hired by them.
And he now would like some whine with his (being) toast:
Of course, this is no Salem witch trial and his termination has nothing to do with "a systematic effort to distort the image of Palestinian journalists as being incapable of trustworthiness and integrity, simply because we cover the human rights violations that the Palestinian people undergo on a daily basis at hands of the Israeli army." It has everything to do with shining a light on his vile support of the murder of innocent people, which – let's fact it – shows he is incapable of being a decent human being, let alone lacking trustworthiness and integrity.
As Honest Reporting exposed:
In 2011, Salem took to Facebook to praise the Jerusalem bus bombing in which British Christian evangelical student Mary Jane Gardner was murdered, and 67 others were injured.
During 2014's Operation Protective Edge against Hamas in Gaza, Salem used his profile to hail the terrorist organization's capturing and killing of IDF soldier Oron Shaul.

—

Around the same time, the photographer mourned Salam Maher al-Madhoun, a Hamas operative sent to carry out a mass killing in the southern Israeli community of Nir Am. Al-Madhoun's terrorist cell managed to kill four IDF officers and soldiers before being neutralized.

Then, on November 18, 2014, Hosam Salem again used Facebook to express his joy over the massacre of four rabbis and an Israeli-Druze police officer in a synagogue in the Jerusalem neighborhood of Har Nof.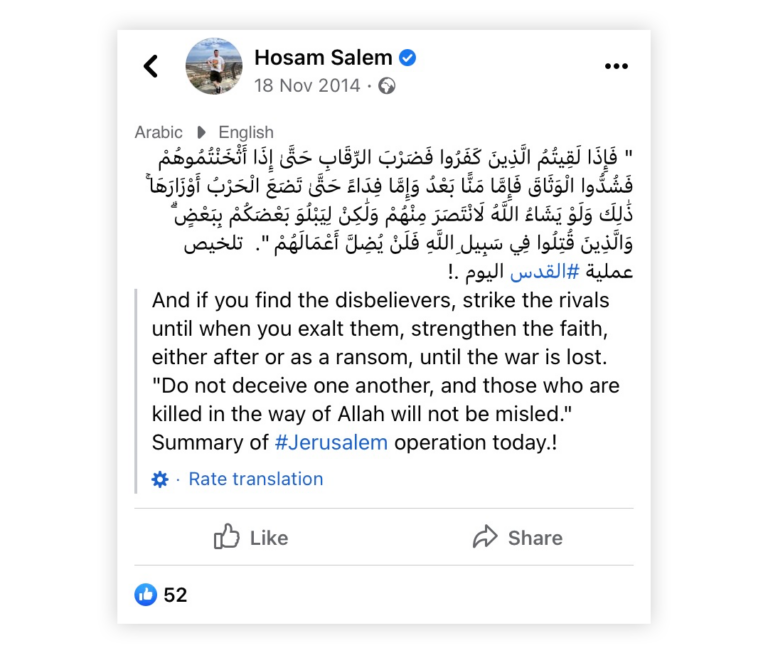 There's more. In 2015, Salem applauded two acts of terror (see here and here); a shooting at the Gush Etzion Junction that killed an American teenager, an Israeli man, and a Palestinian bystander; and a Jerusalem stabbing that killed three.

Some three years later, after being hired by The New York Times, Salem called for more violence following an attack that killed two IDF recruits in the West Bank. "Shoot, kill, withdraw: three quick operational steps…to bring peace to the hearts of sad people like us," the inciting post read.

Finally, he has repeatedly eulogized Mohammed Salem and Nabil Masoud. The two were responsible for a 2004 suicide bombing that killed ten workers at the Ashdod port, Israel's second-busiest harbor (see here and here).
The "two colleagues" to which Salem refers are freelance filmmaker Soliman Hijjy/Sulaiman Hejji and freelance producer and fixer Fady Hanona. Thanks to Honest Reporting again, here are some of their greatest hits:
Salem's reaction to his and the firing of his fellow antisemites and terror supporters is typical of those whose own vile social media postings see the light of day – as we have seen in many cases of antisemites I have exposed on here. It also highlights just how important it is to do this work of proactively going after the bad guys, who prove time and again to be their own worst enemies.