Californian Music Professor César A. Mateus Applauds Terror Attacks Targeting Jewish Civilians
Meet César A. Mateus.
According to the Ventura College website:
César A. Mateus Ph.D. has been teaching, performing, recording, and composing for over 25 years. He has been teaching at Ventura College and the Los Angeles Community College District since Fall 2000. He has also been on the faculties of Ventura College, Santa Barbara City College, Westmont College, and visiting professor at Cal State University, Los Angeles.

His teaching specialties are Rock, Blues, Classical, Flamenco, Jazz Guitar, and Composition & Theory.

He has recently performed on the "Smallville" and "Charlie's Angels" television series, and also performs in France and Montréal, Québec. He composes orchestral music, Jazz, and in June 2008 released a Latin Jazz CD "Of Red and White" with Brent Fischer, Frank Petrilli, Robert Fernandez and an all star line-up of renown musicians.

He holds a B.M from CSU Northridge (cum laude), an M.F.A. from Cal Arts, a Ph.D. from the University of California, and an Artist's Certificates from IRCAM and Le Centre Acanthes in Paris, France.

He currently performs at Vitello's, in Studio City, California where he leads the César Mateus Latin Jazz Group!
Judging by this, he sounds like a highly accomplished musician.
Judging by his reaction to this morning's terror attack in Jerusalem, aimed at innocent civilians including young children, he sounds like a vile human being:
And there's more of the same on his Facebook profile.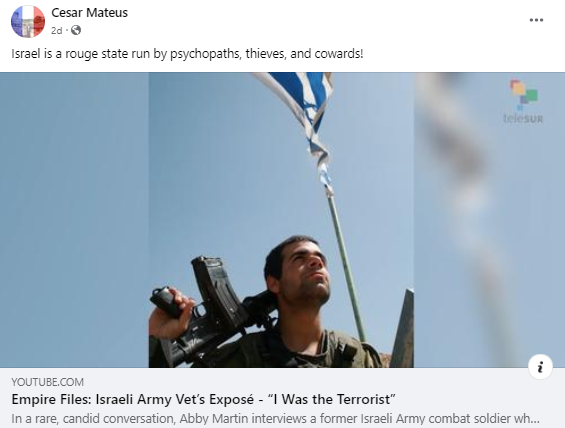 But he's clearly not antisemitic. He just hates some Jews.
He's not even anti-Semantic:
But I must say, he does seem to spread the antisemitic trope of "Zionists" pulling the strings of US politicians:
And comparing us to Nazis also contravenes the IHRA definition of antisemitism:
I don't know about you, but I don't feel comfortable knowing this guy could possibly be around (Ashkenazi) Jewish students and "Zionist" students.
And perhaps not around any students. Check out some of the reviews on Rate My Professors – apparently, he has a short temper and – according to one reviewer – has behaved very inappropriately.