An Antisemitic Blood Libel Streaming on Netflix
In case you haven't heard, Netflix is streaming Farha, a Jordanian film that depicts Jewish fictitious atrocities against palestinian Arabs during the 1948 War. It has Israelis cancelling their Netflix subscriptions, and Israeli ministers condemning Netflix.
As usual, I decided to see for myself what the fuss is about. My conclusion? It is worse than you could imagine, with the Jewish soldiers depicted as Nazi-eque, evil sadists who execute men, women and children for shits'n'giggles.
Don't believe me?
The 1948 War of Independence was a war of survival for the Jews of the nascent state, who had just witnessed world Jewry decimated in the Holocaust. They were not going around murdering innocent Arab men, women and children. They were fighting Arab armies who vastly outnumbered them.
When I use the words "antisemitic blood libel", I am being specific. The phrase refers to the false allegation that Jews used the blood of non-Jewish, usually Christian children, for ritual purposes. What we are witnessing with Farha are lies of the same mold. The Jews in the movie are being depicted as acting like the Nazis actually did towards the Jews, which is quite deliberate – and antisemitic.*
Please join me in signing the petition, to send a letter off to Netflix management to remove the film. This is not a matter of something that we simply do not like – it is incitement that could lead to more blood being spilled, just like the antisemitic blood libels of days gone by.
Updates
4/12/2022: At a Q&A at the Toronto Palestine Film Festival, Director Darin Sallam admits she created fiction with the movie.
5/12/2022: This is the response I just received from Netflix: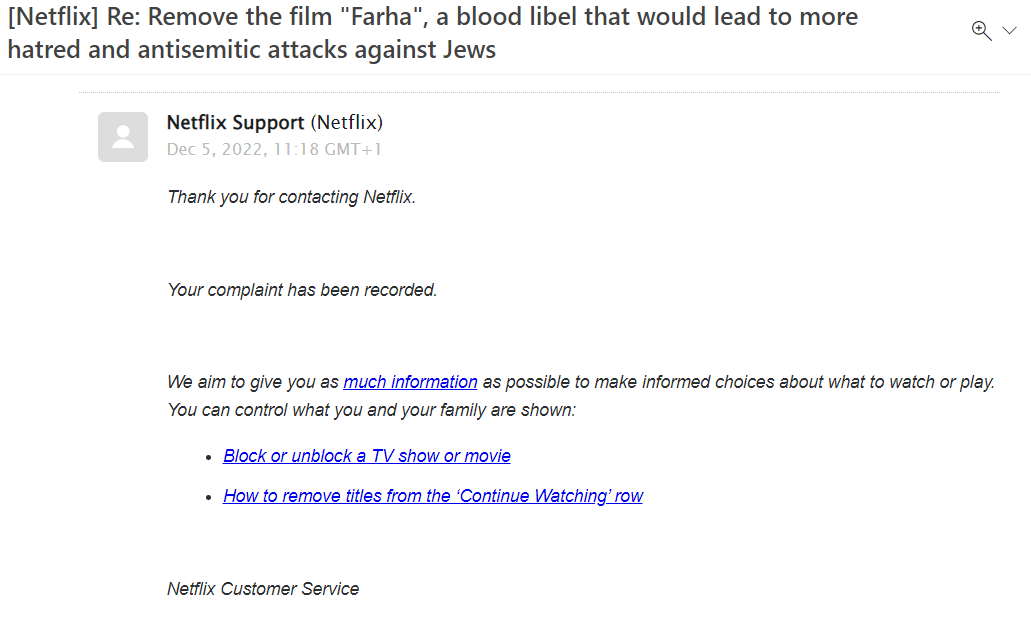 Translation: if you don't like it, look away. But we will continue to stream it to people around the globe.
Meanwhile, according to Ynet:
Although many Israelis have expressed outrage and terminated their Netflix subscription after the streaming platform announced that it would upload the film, Israelis who chose to keep their subscription would not be able to view it after it was blocked for them.
I can see still see Farha is available for me, and I can view it.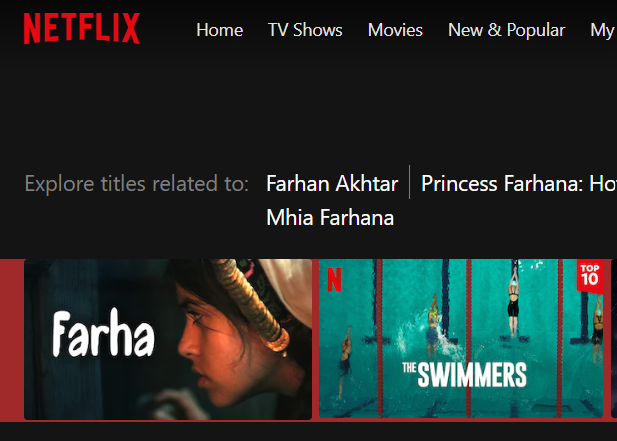 *As someone rightly pointed out to me, they even made the lead Jewish soldier have a long nose and resemble Hitler