"Not-Antisemitic" Comedienne Nicole Arbour Sprung Revealing Her Antisemitism
Tabercil, CC BY-SA 3.0, via Wikimedia Commons
Nicole Arbour is a "comedian" and "influencer", supposedly with "over 1.5 billion views", who I had never heard of until recently.
Not because of some hilarious routine that went viral, but rather because she decided to wade into the murky waters of defending both Kanye West and Kyrie Irving: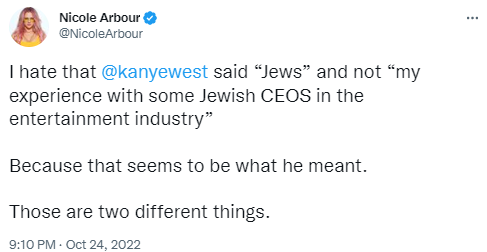 The fact Jeff Bezos is not even Jewish certainly rang my alarm bell regarding her intentions – let alone her critical thinking skills.
Arbour followed this up with a video (that seems to have since been deleted), painting those who called her and others antisemitic as the problem, saying it is ok to ask questions, and claiming it is not antisemitic to suggest Jews run things because they do…and should be proud of it.
And the gaslighting continued with more tweets: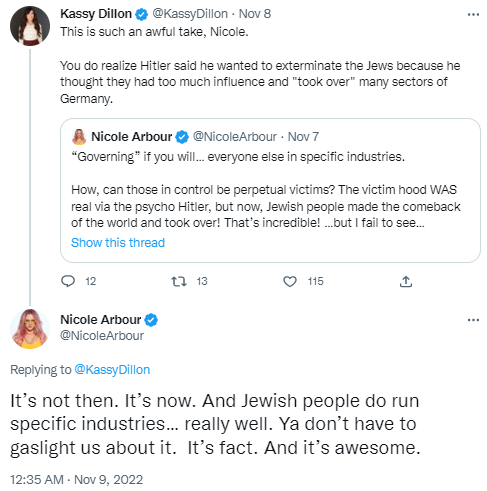 At the time, one might think at best she was very misguided, if not uneducated, but perhaps not harboring animosity towards the Jewish people.
Allow me to disabuse you of that notion.
In a DM with someone who had tagged her on a post on Instagram featuring my response to her Bezos tweet, Arbour let down her guard and revealed her real feelings:
So much for forgiving the past (not that we murdered Jesus):
Meanwhile, Arbour was recently in the news after Cardi B took issue with her sharing an insensitive tweet. Arbour claimed Cardi B photoshopped something to pretend she was racist:
There is no pretending, Nicole. You are racist, at least when it comes to the Jewish people.