Haters Get Excited Over Tom Hanks Wearing Keffiyeh-Like Scarf. They Shouldn't.
The haters, like Muhammed "Me too" Desai's Africa For Palestine, are posting this photo of Tom Hanks supposedly wearing a keffiyeh: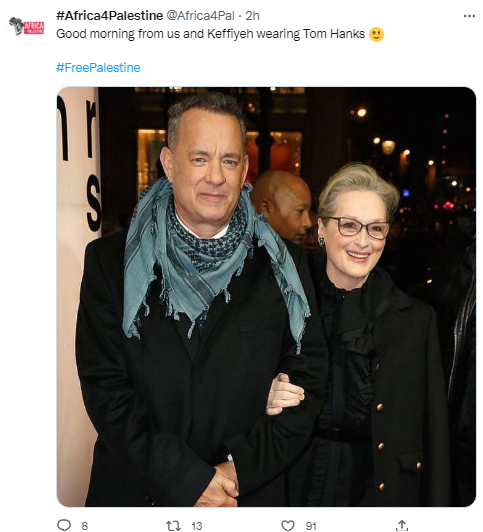 First fact check: this is an authentic photo and is not photoshopped.
Second fact check: while it does look like a keffiyeh, only the black and white chequered keffiyeh has become a symbol of palestinian Arab nationalism/terrorism, and the red and white ones adopted by palestinian Arab marxists.The blue one likely has no meaning beyond fashion.
In fact, fashion brand Louis Vuitton were selling such an item, but were forced to pull it last year after the haters cried out "cultural appropriation." Better yet, many complained about the blue and white, since those are the colors of the Israeli flag.
And let's be honest here: Tom Hanks has absolutely no history of supporting the palestinian Arabs, let alone hating on Israel. The opposite, actually:
Tom Hanks wants to produce his next movie in Israel. The Academy Award-winning actor spoke recently with Israeli UN Ambassador Danny Gillerman about filming in the Jewish state, Ynet reported Tuesday. Hanks visited Israel 25 years ago while working on his first film. The actor met with Gillerman during the premiere of Hanks's HBO miniseries John Adams, and they arranged to meet again.
Plus I'll see your keffiyeh-looking scarf and raise you a yarmulke and tallit:
Besides, who are they kidding? Tom Hanks is a mensch.