Australian Palestine Advocacy Network Israel Study Tours' Hypocrisy & Dishonesty Exposed
The Australian Palestine Advocacy Network (APAN) are running some "study tours" to Israel in the middle of the year:
A different kind of travel – An APAN study tour gets you beyond the headlines. Meeting extraordinary people in extraordinary places, you get to ask your own questions, debate and make up your own mind.

Our groups are small, averaging 8-12 people, allowing you the time and space to engage with the people and the issues, providing a more enriching travel experience.

You don't need to be an expert in politics or foreign affairs to join us. APAN study tours are working tours designed for people with an active interest in Palestine, the Palestinian people and peace in the region. We provide pre-tour briefings and useful reading lists to help you get the most out of your experience.

We plan and operate all our tours – We don't rely on destination tourist companies to do our work. We explore, research and set up all our own tour activities, and our expert consultants can help you get to wherever you wish to go in the region.

Value for money – APAN study tours are run at cost and come at one low fee. The tour fee includes your international economy-class airfare, in-country accommodation in your own single room (4 star bed & breakfast hotels), in-country transport, most meals, pre-departure briefing and information booklet, and access to the experts and experiences other tours don't visit.

DATES: 9-16 July 2023 (sold out, waiting list available); 13-20 August 2023

DESTINATIONS: Jerusalem, Bethlehem, Hebron, Ramallah, Haifa, Tel Aviv, Amman (Jordan)

DURATION: 7 day tour

MAXIMUM PARTICIPANTS: 14

INCLUDED:

International economy-class airfare
Accommodation (single room with breakfast)
Local transportation in-country
Most meals
Visas & departure taxes
Pre-departure briefings

COST: AUD$8,900 (includes $300 non-refundable deposit on registration)

PAN study tours are focused on the contemporary situation for Palestinian communities in the Middle East. APAN offers a selection of study tour schedules, which can include visits to Palestinian refugees camps in Lebanon, as well as Palestinian communities in the occupied West Bank and inside Israel proper. Unfortunately it is not possible to visit the Gaza Strip at this time.

The study tour schedule is focused on the current affairs and politics of the Palestine-Israel situation through meetings and field trips with leading political analysts, experienced local guides, as well as local communities and people on-the-ground. The study tour does not include any general touristic sight-seeing, such as historical or religious sights, which are often of significant interest to delegates. If you wish to do some general tourism, we'd recommend arriving earlier before the study tour or staying on later after the study tour. Please note that the dynamic nature of the local situation at the time of travel may require the tour schedule to be adjusted with minimal notice.
A reader contacted APAN to get more information about the tour, in order to see if there were any illegal, dishonest, and/or hypocritical shenanigans planned.
According to the reader, APAN plans to fly directly from Australia to Tel Aviv this year thanks to Emirates now flying direct from Dubai to Tel Aviv. This is clearly the result of the Abraham Accords, something to which APAN have been very vocally opposed.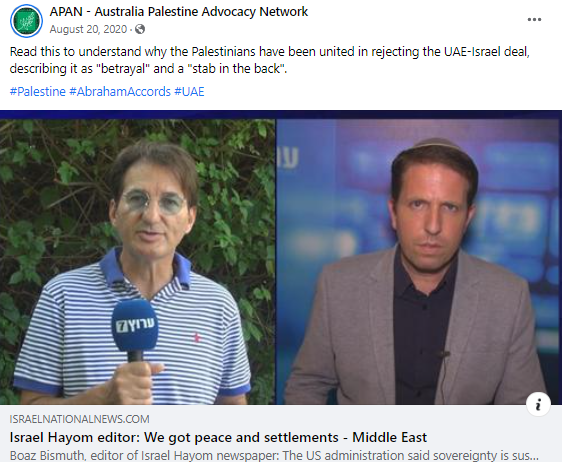 Besides this blatant hypocrisy, APAN apparently advise when arriving in Israel to avoid mentioning anything about the tour, what you plan on doing, or where you will be going because this could result in being taken off for questioning. According to the reader, they advise to "act like a dumb tourist." This reminds me of the advise the Israel-hating International Solidarity Movement (ISM) have been known to give.
Apparently participants stay in palestinian Arab-owned hotels in "East Jerusalem" and do day trips. I just have to wonder whether when in Tel Aviv, for example, these boycott supporters purchase food and drink. And note how in the tour information, it is stated "If you wish to do some general tourism, we'd recommend arriving earlier before the study tour or staying on later after the study tour." The BDS-supporting APAN are not exactly trying to dissuade participants from helping the Israeli economy!
When asked about whether it would be possible to speak to government officials (aka Hamas) in Gaza, APAN was, according to the reader, careful to point out this would not be possible because of Australian law designating them a terror organization. Had that designation not occurred, could such a meeting have been arranged since APAN leaders have vocally opposed Hamas' political wing as such?
By the way, their website has this photo of participants in Hebron:
The guy pictured in the middle is Issa Amro, an infamous Israel-hater and liar. With the likes of him "educating" the participants, one need not guess what kind of study tour this is.