Hamas Attempt To Paint Israel as Racist Backfires Badly
A few days ago, Hamas released the video showing that Israeli Avera Mengistu – captured in 2014 – is still alive.
According to blogger Elder of Ziyon, the likely reason for them releasing the video is to show Israel is racist against its Black Jews:
But stoking racism really seems to be Hamas' main goal. This video released by Hamas' Felesteen newspaper, "Who Is Avera Mengistu," claims that Israel negotiated for the return of other soldiers but not Mengistu, because they are racist and he is black. (Mengistu was never a soldier.)

The video also says that "racist rabbis" never accepted Ethiopians as Jewish.
Hamas has tried the race card before, tweeting in 2015 that Israel doesn't care about people of color.
This seems to be yet another attempt to portray Israel as racist in this way, based on lies. And it is not even the first time they have lied about Israel not negotiating for Avera's return. As I have posted before:
Naturally, Hamas are lying out of their ass. They just hope their audience aren't the type to question and read.

For instance, this from July 17 2015:

Israel asked Hamas about Avera Mengistu last August, while the war with Gaza was still on, although the government said he crossed into the Gaza Strip in September, after a truce had been reached, a senior Hamas official said on Thursday.

Mengistu, a 28-year-old Israeli of Ethiopian descent, has been missing since last September, when he evidently crossed the border into the Gaza Strip. Though missing for over 10 months, news of his disappearance shocked the public, which was left in the dark due to a court-imposed gag order on the case.

Moussa Abu Marzouk, deputy chairman of Hamas' political bureau, reiterated the demand that Israel release 54 prisoners who had been freed in the Shalit deal and then imprisoned again, as a condition to negotiate over Mengistu and another missing Israeli, an unnamed Bedouin young man who crossed into Gaza in April and is presumed to be held by Hamas.

In an interview with Al Jazeera's website, Abu Marzouk said, "That Mengistu, whom the [Israelis] say is mentally disturbed, they spoke about him already in the negotiations in Cairo (the Egyptian-brokered Israel-Hamas talks that led to the truce that went into effect on August 26)."

"They told us that Mengistu entered the Al-Sudaniya region in the northern sector and asked us to return him because he is mentally disturbed. How can we believe that a man in uniform and is mad can walk across 40 kilometers and escape from the Be'er Sheva area to enter the Gaza Strip from the northern sector?" Abu Marzouk said.

Abu Marzouk disclosed no details of Mengistu's whereabouts or condition. "There's no reason for us to say anything about this issue because there will be no information without a price and no possibility of negotiating unless Israel undertakes to have negotiations on the issue and respects that," he said.
But here's where their latest attempt has backfired.
The video starts with a photo of another Ethiopian, and not Avera Mengistu.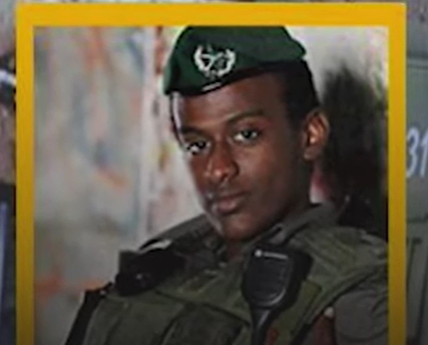 And this is not even the first time they have done this.
As I said at the time:
The top photo is of another person entirely, and dates to at least 2012, years before Avera was captured. But even more to the point, the two men do not even look remotely alike.

—

By claiming the two men are the same person, these propagandists are basically saying "all Black people look alike."
Same energy:
Hat tip: Uri