Engineer Cassandra Lee Taha Brazenly Supports Palestinian Arab Terrorism
Last year, I featured Canadian engineer Cassandra Lee Taha as one of my "anti-Zionist-not-antisemites" of the day.
She subsequently launched a GoFundMe to help "pay to remove the smear campaign," which – if she means my factual post about her – has not worked very well for her.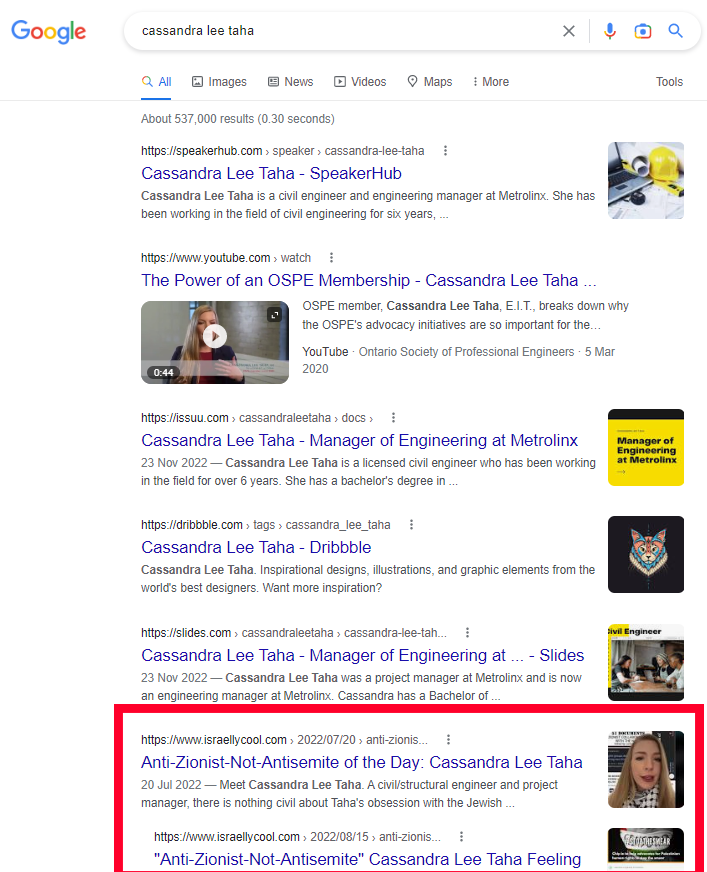 Perhaps because of the bad publicity my post has caused her, she has stepped up the self-marketing, publishing the below video, which interestingly mentions she is a "Palestinian-Canadian social justice advocate":
I say interestingly because in the past, she seemed to keep that side of her activities on the down low, using a fake name when tweeting or posting her hate against the Jewish state.
Taha has not slowed down in that regard either, and continues to post some of the most heinous things – including this video just days after a palestinian Arab terrorist murdered seven Israeli Jewish civilians outside a synagogue in Jerusalem:
At the same time, Taha still features in a video for the Ontario Society of Professional Engineers (OSPE):
I would like to think they still are unaware of her vile social media posts and videos, and if they did know, they would take down this video and any mention of this antisemitic terror supporter on their website.