Jeremy Corbyn, Male Model
Old and busted: Zoolander
New hotness: Jewhater
And why is Jeremy Corbyn modelling the new jersey of Dublin club Bohemian FC?
FORMER Labour leader Jeremy Corbyn has given the thumbs up to an Irish soccer club's new jersey, which aims to raise money to support children in Palestine.

Last month, Dublin club Bohemian FC unveiled their 2023 away shirt featuring red, green and black detailing and a dove icon, after teaming up with the organisation Palestine Sport for Life.

The club says it hopes to raise awareness of human rights violations in Palestine and raise much-needed funds to support access to sports for children in the Tulkarem Camp in the West Bank.

On Tuesday, Bohemians shared a picture on their Twitter and Instagram accounts of Islington North MP Mr Corbyn giving the thumbs up while wearing the new jersey.

The club added that Arsenal fan Mr Corbyn had recently visited Bohemians' Dalymount Park ground.

Ten per cent of the profits from the jersey will go to the Palestine Sport for Life project in Tulkarem to provide sports equipment.
Naturally, Bohemians could not resist some propaganda to help publicize the shirts, using the security wall as a backdrop:
which is also currently front-and-center on their website:
I wonder if their fan Samuel L Jackson would approve.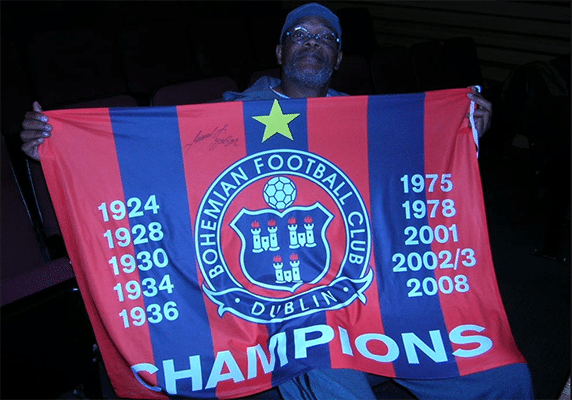 But back to Corbyn as their choice of male "model":
League of Ireland club Bohemians is using Jeremy Corbyn to promote its jerseys, despite the MP being embroiled in an anti-Semitism scandal.

The club has been called on to explain its association with the former UK Labour Party leader, which "raises serious questions about Bohemians' motivation and judgement".
I am also not a fan of this. He looks way better in yellow and green.