Libel Debunked: Israeli Policeman Strangled Palestinian Arab Child to Death
The following video and allegation has been doing the rounds, with the video being viewed already well over 20k times from the below tweet alone: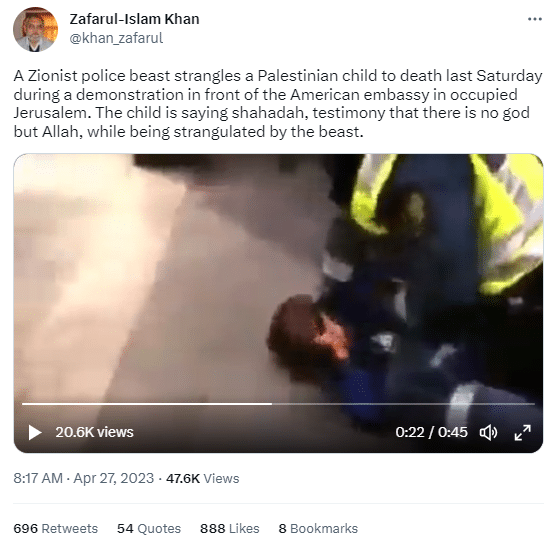 (this guy is a journalist by the way).
It seems to have been going around on social media since at least 2017, but gathered pace recently.
It is a complete lie.
The first clue is how that is not Hebrew being spoken in the video. Turns out it is Swedish, and the video is from 2015:
A pair of train station security guards are being investigated by Swedish police, after disturbing footage emerged appearing to show one assaulting a nine-year-old boy.

The video appears to show a guard sitting on top of a nine-year-old boy in the station in the city of Malmo. As the child struggles, the guard is seen clasping his hands over the boy's mouth, and pushing his face into the ground.

In his apparent state of distress, the boy is heard reciting the Shahada – an Islamic prayer.

The guard had detained the boy and his 12-year-old friend after they travelled without a ticket and were made to leave a train.
Here is the original video, which has clearer sound:
Yet again, a malicious lie has been spread far and wide, with the sole purpose of demonizing the Jewish state. Whoever it originated with knew full well people would gobble it up, and even if the lie was discovered – as it has been – a lot of damage would already have been done.
Hat tip: DesiDiva on Twitter.