Egypt's National Team Coach Wipes Israel off the Taekwondo Map
Israel Hayom reports on a seeming boycott of the Jewish state by a social media operation and phone app called Rnkr, which describes itself as "your digital hub for everything Taekwondo rankings, tournaments, draw sheets."
While Israeli athletes have already gotten used to Arab rivals not coming up to compete against them, today (Monday) we received a new kind of boycott. In the new world ranking published in taekwondo, the Israeli flag was dropped next to all the athletes in blue and white.

The popular website in the industry – "Rnker", which has an application and pages with tens of thousands of followers on social networks, decided to omit the Israeli flag, including on the Olympic bronze medalist Avishag Samberg.

The CEO of the Taekwondo Association told Israel Hayom: "It is very sad to find out that this website, which claims to be a sports website, boycotts the State of Israel and raises the name of the country and our flag.
In case you might think this was a coincidence, the flag was not just missing from Avishag Samberg's profile. As occasional Israellycool contributor Uri Gobey discovered (from fellow advocate Adva Cohen), every Israeli athlete in their database received the same treatment.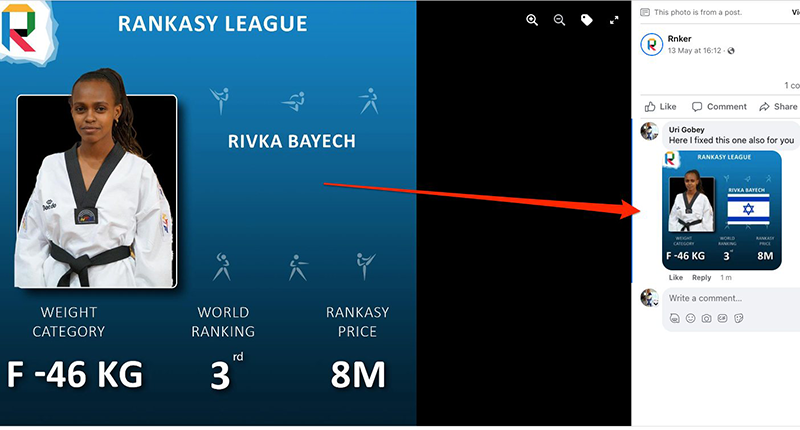 Just like they are missing an "a", they also seem to be missing any concept of accuracy, and fairness.
After Uri – followed by others – inundated their comments section with images altered to include the Israeli flag, Rnker seems to have deleted their entire Facebook page.
I checked on the iPhone, and the Rnker app is still in the App Store. Not only that, but I seem to have found the reason why the Israeli flag does not appear.
Rnker seems to be the only app Mohamed Elsergany has developed on the iPhone and Android. And in the app, Israel is mentioned, possibly because Mohamed does want us to be able to report the app and risk it being removed:
Update: The flag does not appear in the App either.
וכאן, שוב אבישג בלי דגל. pic.twitter.com/1kxG3R8Rwc

— m shtusim (@MShtusim) May 22, 2023
But the plot thickens. Mohamed is Egypt's Taekwondo national team coach!
He also seems to work at Vodaphone Egypt.
Join me in contacting the International Taekwondo Federation and Israel Taekwondo Federation to alert them to this, and encourage them to have Mohamed face sanctions for this discrimination.