Haters Jump on Times of Israel Blog Post Calling for Palestine to Be Obliterated
Regular readers may already have worked out I am no fan of the Times of Israel.
Time and again their headlines, op-eds, and reporting would not look out of place in an anti-Israel publication. Other times, it is just plain irresponsible or sloppy. And other times, they just blindly republish disgraceful pieces from other outlets.
And do not get me started on the fact I am aware of at least one Times of Israel employee who wastes no time bashing Israellycool's work behind my back.
Their blog section is also a sight to behold. Anyone can open a blog on their site, which is fine, and some of those blog posts are even good. Unfortunately, they do not seem to review the blog posts, with damaging results.
In 2014, they allow on their platform a blog post titled When Genocide is Permissible.
Not surprisingly, the haters and mainstream media picked up on it, and it caused untold damage, prompting the Times of Israel to remove it and apologize.
The Times of Israel on Friday removed an unacceptable blog post, entitled "When genocide is permissible."

This blog post, which was described by our Ops & Blogs editor as both damnable and ignorant, blatantly breached The Times of Israel's editorial guidelines.

We have discontinued the writer's blog.

The Times of Israel maintains an open blog platform: Once we have accepted bloggers, we allow them to post their own items. This trust has rarely been abused. We are angry and appalled that it was in this case, and will take steps to prevent a recurrence.

We will not countenance blog posts that incite to violence or criminal acts.
Fast forward to now, and the Times of Israel allowed a blog post titled Moving Forward on Palestine to be published on their platform. And while it made some valid points about the palestinian Arabs behavior', it started with the sentence:
In order to right a wrong, in order to make peace and move forward, Palestine must be obliterated.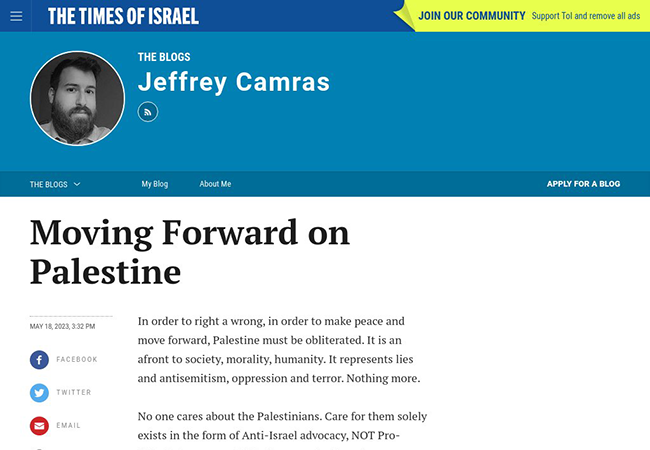 It also calls for us to reestablish the Temple sacrifices and conquer Lebanon, Syria and Jordan today, while expelling anyone who does not accept G-d's sovereignty:
Establish sovereignty over Har HaBayit. Do this today! Establish Jewish prayer and a Korban Tamid today! Conquer remaining biblical lands in Lebanon, Syria, and Jordan. Do this diplomatically or militarily. Do not be weak with your enemies. Expel anyone who does not accept Hashem's Sovereignty, which recognition of Jewish sovereignty is the litmus test.
Naturally, this was a gift to the haters, who wasted little time in drawing attention to this "genocidal" piece (even though if you read it carefully, he is not calling for genocide) and archiving it before the Times of Israel removed it. Anti-Israel media outlet Palestine Chronicle already has an entire piece decrying it.
Some of you may be of the view that the Times of Israel should allow any blog posts on their platform, freedom of speech and all that. But I have a huge problem with a Jewish and Israeli media outlet playing in to the hands of those who demonize us at every turn. Plus if you allow any posts, then you open yourself up to allowing anti-Israel posts to be published as well.
Granted, the Times of Israel are not Ha'aretz, who are simply vile and antisemitic. But they have proven yet again how they cannot be taken seriously.