Hypocrite Nerdeen Kiswani Holidaying in Country She Wants Destroyed
Nerdeen Kiswani, the anti-Israel activist and co-founder and leader of Within Our Lifetime-United for Palestine (WOL), is an infamous antisemite and terror-supporter, who has called for the abolishment of the entire state of Israel, which she describes as an "apartheid state" (amongst other things).
In her now infamous CUNY School of Law Commencement of 2022, she attacked – among other things – the CUNY chancellor for "going on a normalizing trip to Israel."
Fast forward to now and Kiswani has gone to Israel – for what some of her fellow haters would consider to be a "normalizing trip."
Nerdeen Kiswani, a Palestinian-American law student at City University of New York who has called for anti-Israel boycotts, posted Facebook pictures of herself in Israel this week after crossing from Jordan to the West Bank at an Israeli terminal.

She said she had been refused entry there in 2015.

"I decided to use the opportunity of this visa waiver program to see my family after being denied that right for almost a decade," she told Reuters by email.

"It was not entirely smooth sailing, however, as I was made to wait nearly four hours and I reached out to the U.S. Embassy before being allowed in," she said. Most of her family "received their visas and passports back almost immediately," she added.
Speaking about "smooth sailing":
Akka (also known as Acre) is a city in Israel with a mixed population of Jews, Muslims, Christians, Jews, Druze, and Bahá'ís. As such it is a model of coexistence and makes an absolute joke of the "apartheid" slurs in which Kiswani and others engage. And you can see from her photos, she is hardly being persecuted.
As is Jerusalem, where Israel allowed the Islamic Waqf control over the Temple Mount, despite us liberating the area from Jordanian rule in 1967 (before which Jews were denied any access to the Old City of Jerusalem and our holy sites):
and of course Haifa: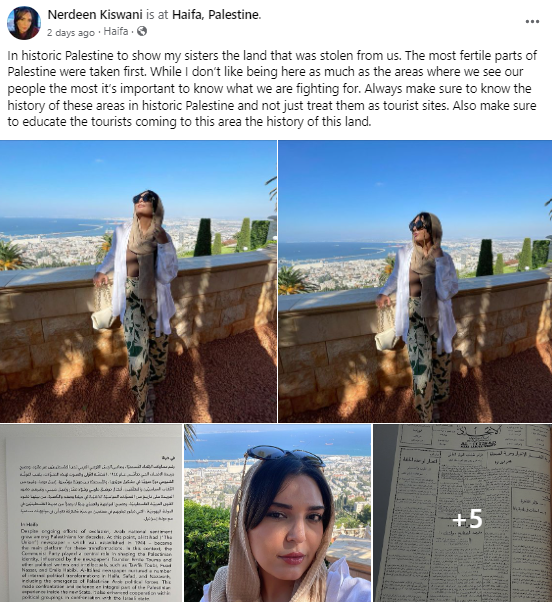 I wonder whether Kiswani consulted with Linda Sarsour for her trip itinerary.
I also wonder whether she tried to set fire to anyone wearing an IDF T-shirt. Probably not.