Following the Trump travel ban, Ami Horowitz decided to interview some Muslims in Minneapolis
PM Netanyahu said he supports a bill to bar mosques from using loudspeaker systems for the Muslim call to prayer
It's time to ask Muslims and their leaders what they're going to do about their Jew hatred problem.
The apartheid lie is simply ridiculous
They were not mourning the death of fellow Muslim Muadh al-Kasasbeh, the Jordanian pilot murdered by IS.
Look who's whining about a little light freedom massage at the airport.
Anti-Israelis have no argument, so they resort to violence...
And not everyone's..happy
The Jew-haters don't care about your politics.
A new Pew Survey sheds much insight into the views of Muslims worldwide, especially palestinian Muslims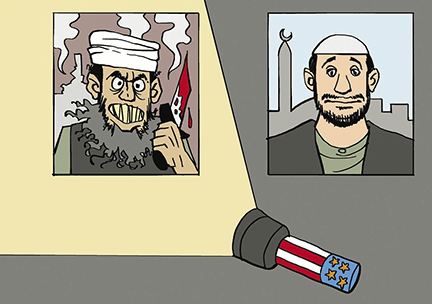 An Egyptian newspaper has decided to use a "battle of cartoons" to counterattack the cartoons mocking Mohammed. Including an antisemitic one.