In the past few days, I noticed some traffic coming in from this Facebook group supporting ISM terror enablers Bridget Chappell and Ariadna Jove Marti, thanks to Chappell herself posting a link to last week's post. Interesting enough, even though I was almost being facetious in suggesting she might be lying about her name, it turns out her Facebook name is Brigette Dostojevskij (see her photo album to confirm it's her in all of her pierced glory).
The Facebook group and "Chappell"'s profile are enlightening. For instance, here we see how "Chappell"'s pro-palestinian proclivities are really motivated by hatred for Israel (click on image to enlarge).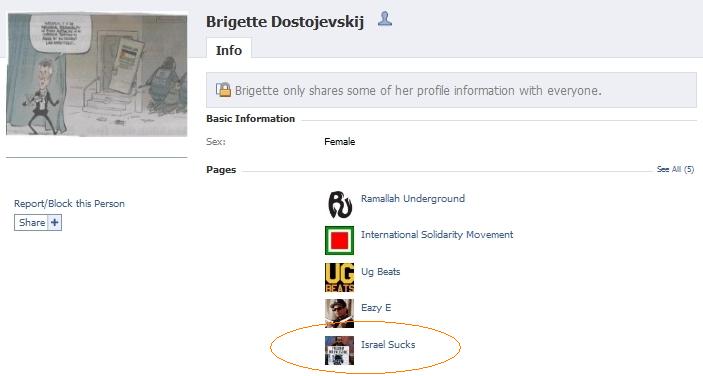 And here's an even more troubling indication (click on image to enlarge).
That is a pretty clear endorsement of terrorism. Interestingly (though not surprisingly) enough, she has no photos related to peace.
Meanwhile, one of her buddies found it amusing I would post photos of the ISM posing with terrorists.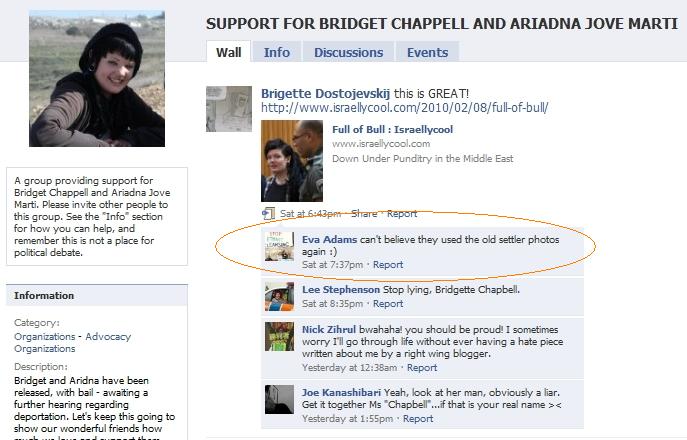 So there you have it, folks. A group of people who at worst support terrorism, and at best find it amusing.
To some they may be "selfless and passionate people", but to me they are numbskulls on the side of evil.
Please help ensure Israellycool can keep going,
by donating one time or monthly