At the Virgin Megastore in Qatar, prospective book buyers are helped along with some recommendations – including an old "classic." (hat tip: EoZ)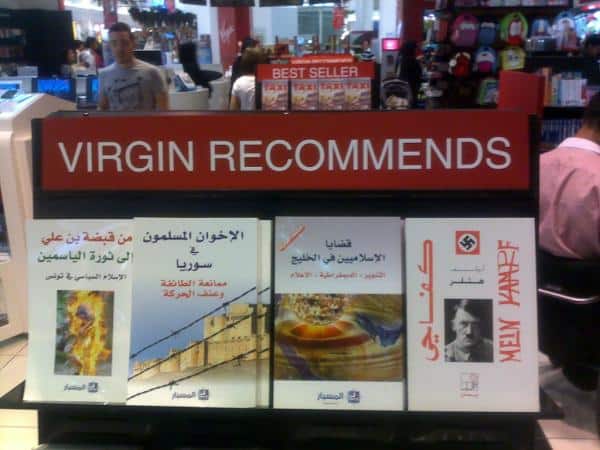 Yes, that's Hitler Mein Kampf being advertised to Virgin's Arabic customers. And in case you think the photo (source here) is photoshopped, here is a Bahraini blogger speaking of the same phenomenom in the Virgin Megastore in Bahrain.
Now apparently I'm really late to the party, because this issue was brought to Richard Branson's attention at least as early as April. And while I am not sure when the above photo was taken, I have not seen any evidence of Branson acknowledging the issue nor acting on it, certainly not on his blog.
If you want to add to the chorus of voices asking Branson to do something about it (or at least let us know if something has already been done), here are a few places to start:
Virgin Megastore Middle East Twitter page
Virgin Megastore Facebook page
About the Author
Having been brainwashed at a young age, Jono moved to Occupied Palestine 20+ years ago from Australia. After 15 years selling insipid Jew technology to immoral, BDS snubbing foreigners he decided the ultimate evil would be to sell the cancerous Zionist Regime as a product itself. He now works selling luxury private tours of the heinous Zionazi hellhole to infidel supporters of Apartheid, colonialism and Western Imperialism.
Filed Under: Aussie Dave