This:
This is a rally held today on the Temple Mount by pro-Muslim Brotherhood (read, Hamasholes) against Sisi.
The banner on the left reads:
Hitler killed Jews for his people and Sisi kills people for Jews
Get it? Jews. Not Israelis. Not Zionists. JEWS.
What's even more mind-blowing, is that Israel is the only place in the Middle East where Islamists can protest freely, without being beaten and dispersed by force.
Even the Islamic Republic of Fatahistan is not safe for Hamasholes, as we can see from scenes in Hebron today.
Photo: Palestinian police beat pro-Morsi protesters in Hebron. pic.twitter.com/UuD6npD15i

— Khaled Abu Toameh (@KhaledAbuToameh) August 16, 2013
And in case you thought it was a one-off:
Jenin: Palestinian Authority arrests mosque preacher Naser Alawneh after attacking #Egypt army crackdown on MB during Friday prayers.

— Khaled Abu Toameh (@KhaledAbuToameh) August 16, 2013
This being the Middle East, it all boils down to one thing and one thing only:
ANTI-SEMITISM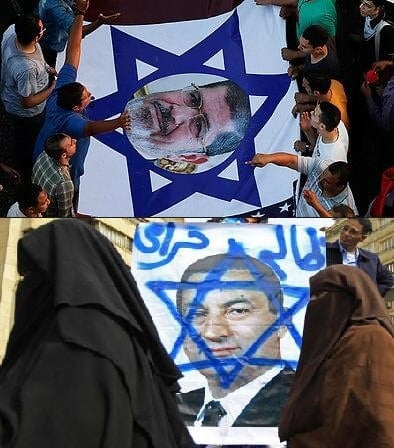 Please consider a donation. Besides the work we do - which includes scoops, exposing the haters and posting original and entertaining content - this blog takes up not just a lot of time but also money. Your support is appreciated.