As I posted before Rosh Hashanah, Iranian President Hassan Rouhani ostensibly tweeted Rosh Hashanah greetings to the Jews on September 4th.
This created quite a buzz at the time, even eliciting the following response from Israeli Prime Minister Binyamin Netanyahu:
Prime Minister Benjamin Netanyahu responded tepidly to Hassan Rohani's Rosh Hashanah Twitter greetings on Saturday, saying he is not impressed by "Greetings coming from the mouth of a regime that only last week threatened to eradicate the State of Israel."

Netanyahu added that the Iranian leadership will be evaluated through its actions, and not via greetings "whose only goal is to divert attention from the fact that even after the elections, it continues the enrichment of uranium and the cunstruction of a plutonium reactor meant to allow it to develop nuclear weapons that will threaten Israel and the rest of the world."

Netanyahu called on the international community "not to get caught up in illusions, and to demand acts and not words." The pressure on Iran, Netanyahu said, must be intensified until Iran stops enriching uranium, sends the material already enriched out of its borders, dismantles the illegal facility at Komm, and ceases construction on the plutonium reactor.
However, by September 5th, Iran had already denied Rouhani tweeted anything of the kind.
TEHRAN (FNA)- A senior advisor to the Iranian President rejected western media reports alleging that President Rouhani has tweeted a felicitation message to the world Jews on Rosh Hashanah, the new Jewish year, underlining that the Iranian president has no official twitter account.

"Mr. Rouhani does not have a twitter account," Presidential Advisor Mohammad Reza Sadeq told FNA on Thursday.

The western media claimed late Wednesday that the Iranian president has tweeted a felicitation message to the worldwide Jewish community to congratulate them on the advent of the new Jewish year.

"As the sun is about to set here in Tehran, I wish all Jews, especially Iranian Jews, a blessed Rosh Hashanah," the western and Israeli media quoted Rouhani as saying in his tweet. The message was posted with a picture of a man in a yarmulke bowing his head in prayer.

In response, Sadeq explained that "proponents and fans of Mr. Rouhani were active in the cyberspace during the recent presidential election in Iran and used many web pages with titles similar or close to Mr. Rouhani ('s name) to run their activities".

"Of course, such activities are fully normal during election campaigns, and some of them might continue their operation even after the election," the advisor continued.

"Yet," he emphasized, "any official news on him (the president) is released by the presidential office."

He reiterated that since Rouhani won the presidential election in Iran in June, all reliable news and information pertaining to the president have been only released by his office, "and only the news released through this conduit is official".
Enter DouchebloggerTM Richard Silverstein, who conveniently ignored the Iranian denial and tweeted the following three days later:
After Iranian Pres. Rouhani wishes Jews Happy New Year, Bibi spits on him. How gracious. http://t.co/uOlCE4J27L

— Tikun Olam (@richards1052) September 8, 2013
Even if one were to give him the benefit of the doubt and assume he missed the Iranian denial, how can someone who claims to be so expert on the Middle East miss a major news item like that? Plus he has posted neither a retraction nor a correction, despite being informed of his mistake.
I would suggest so great is his hatred of Israel, that he either deliberately posts misleading/false things or at least does not exercise any due diligence before posting stories which paint Israel in a bad light.
But we already knew that (hat tip: San Francisco Voice for Israel)
Update: Reader Benjamin writes that CNN has confirmed the Rouhani tweet was genuine:
@BarakRavid @camanpour confirmed w aides that the account does indeed come from rouhani's office. And the FM tweeting same Rosh Hashana msg

— Samuel Burke (@samuelcnn) September 8, 2013
But here's the thing. Silverstein never brought this up when he had the chance, after being confronted with the idea the Rouhani tweet was fake, instead preferring to go the ad hominem attack route.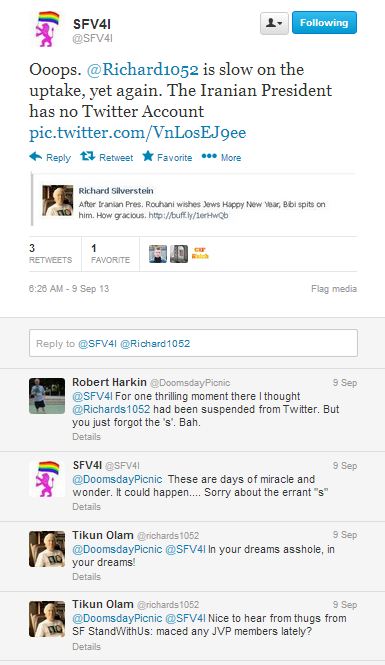 So I'm guessing my original assumption still holds.