Teach Your Children Well
As a parent, busy as I am raising the next generation of Evil Zionists, I always try to find ways to connect with my kids on the subject of Israel. Taking them on their first-ever trip to Israel a few months ago was, as you might imagine, a big help in that regard.
Whether munching on savory, spherical, golden awesomeness at The Yemenite Falafel Center, sharing a plate of Chummus Im Basar (Hummus with meat) at Pinati, climbing on the tanks at Latrun, or touching the stones of the Kotel, we now have a treasure chest of Israel-related memories to share as a family.
Since we can't bring Israel back to the States with us, we try to buy Israeli products whenever we can. Usually, we do so because we enjoy said products. For example, when it comes to Israeli chocolate, my daughter is a Mekupelet freak…
…while my son is more of a Pesek Zman enthusiast.
Sometimes, though, the reason for buying these products goes beyond merely satisfying our taste buds. Sometimes we buy Israeli products because there are malevolent or misguided (or both) bigots out there saying we shouldn't.
Brian's recent BUYcott blogging binge reminds me that BUYcotts are a great way to connect with kids about Israel. Every time an organization like Buycott Israel or  StandWithUs calls for a BUYcott – the positive, pro-Israel response to the discriminatory, Jew-hatey BDS movement's call for a boycott of Jewish Israeli (and some Jewish, non-Israeli) businesses, my kids and I make BUYcotting those targeted products a family activity.
Whether buying Israeli Couscous at Trader Joe's on November 30, 2010…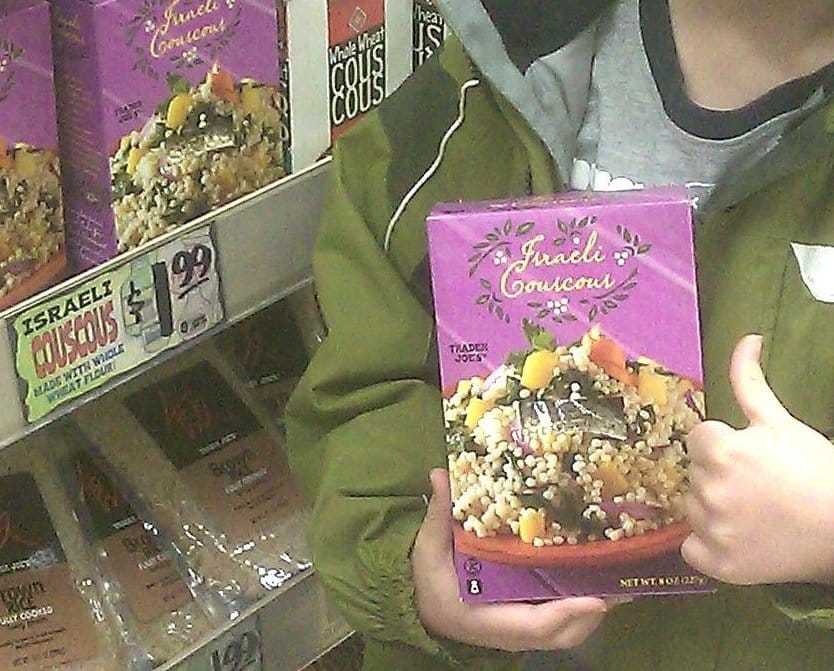 …or Dorot fresh frozen herbs and seasonings during BIG (Buy Israel Goods) Week last April…
…my kids have really enjoyed doing taking part in these pro-Israel BUYcotts. They feel like they are taking part in something important – something bigger than themselves (they are), and it brings us closer together, because they know it is important to me.
Last year, I also started to talk about pro-Israel BUYcotts in my Israel-related classes. Some of my students have participated with their own families, and some haven't (yet), but the ones who have all came back with enthusiastic reports of Israeli products proudly purchased.
The Arab-Israeli conflict can be tough for most kids (and for that matter, most adults) to grasp, so when an opportunity presents itself to teach a lesson in a concrete way that helps personalize this issue for children, we should take advantage as often as possible.
So BUYcott with your kids. BUYcott with your students. Teach your children well, so that one day, when they find themselves on a college campus near you, they'll be far less likely to fall prey to the morally narcissistic siren song of the calls to boycott Israeli products, echoing off the ivy-covered walls.