Head Of Islamic Jihad: Palestinians Must Further The Path Of Jihad & Resistance
Two weeks ago I reported:
…Islamic Jihad leader Khader Habib recently told an audience that the Palestinians must rise up and a launch a third Intifada. In addition, he said that Palestinians must line up behind the resistance and jihad to free Palestinian prisoners.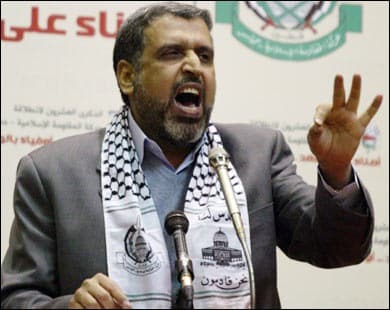 Well, it seems that Islamic Jihad's Secretary General, Ramadan Shallah, did not want to be left out.
Palestine Today reports that in a recent speech, Shallah called on Palestinians to "further the way of Jihad and resistance until the liberation of Palestine and release of all Palestinian prisoners."
Update: It appears that a major rally took place today in the largest Palestinian refugee camp in Lebanon today, Ein Al-Hilweh. During the rally, an Islamic Jihad official called for an "escalation of jihad." Specifically, the official called on people to kidnap Israeli soldiers to force Israel to release more Palestinian prisoners.
Representatives from Hamas, Hezbollah, the Palestinian Popular Struggle Front, the Amal movement, the Popular Front for the Liberation of Palestine, and others partook in the rally.