Sky News Arabia, Same Old Story
Sky News will be launching a new sister channel this week, called Sky News Arabia, whose site is already up and running.
Here is what John Ryley has to say about his new baby's TV Channel:
This Sunday will see a great step forward for Sky News as we launch the Arabic multi-platform breaking news channel, Sky News Arabia.

For more than a year we have witnessed some of the most extraordinary news events of our time in the Middle East and now, it would seem, is the perfect time for a new channel to make its mark.

Following two years of relentless hard work, Sky News Arabia – a joint venture between BSkyB and Abu Dhabi Media Investment Corp – will deliver news to over 50 million homes across the Middle East and North Africa.

Based in Abu Dhabi it will bring a new type of news to the region; fresh in approach, independent in stance and multi-platform in delivery.

Over 400 of the best editorial staff, across 12 state-of-the-art bureaux, have been working tirelessly to ensure we bring world-class breaking news and analysis to Arabs across the Middle East and beyond.

Although not a direct replica of Sky News in the UK, Sky News Arabia will share our major principles; independence, impartiality and providing breaking news – first.

At Sky News we have always done things differently; taken innovation seriously, challenged the status quo and above all respected our audience. Sky News Arabia will also do just that.

Our channel has never been more popular or available to so many people around the world.

This week I was delighted to learn that Sky News is now available in over 100 million homes across the globe.

And not only that. This week Sky News, for the first time, is now available in the United States and Canada via Livestation, the aggregator of television news online.

Our global footprint has increased significantly. A great moment for Sky News, and I believe, a great one for news viewers in these new markets.
So just how impartial and fresh is this new channel? Take a look: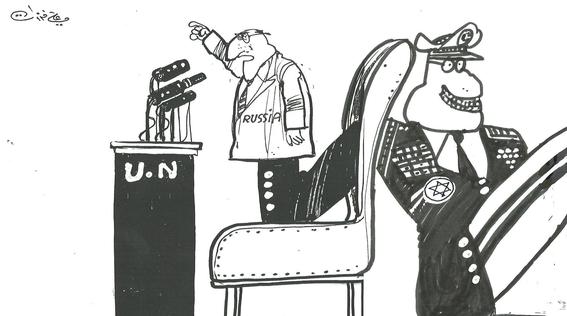 The ever present Jewish puppet master, this time controlling Russia at the UN.
Truth be told, this caricature is aimed at Russia's controversial defence of Assad at the UN stage, however, using the Star of David for the puppet master is typical Arab propaganda: "It's the Jew's [read: Zionists] fault".
Breaking News!!, Sky News Arabia is just another western news agency catering to the Arab world, nothing independent, and certainly, nothing new on TV.