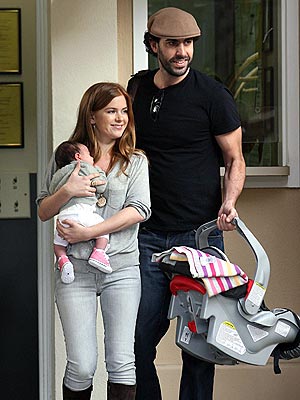 In an interview with Women's Health Magazine, Isla Fisher, aka Mrs Borat, expresses satisfaction with her decision to convert to Judaism.
Here's what the 36-year-old actress had to share with the mag:

On converting to Judaism before her marriage to Sacha Baron Cohen: "It takes a couple of years of studying. I've always been really into family and food, so culturally it was the right fit for me."
And later on in the interview, we see the evidence .
On her early career: "After Wedding Crashers, I had 12 months where I was auditioning three times a day and I didn't get a single job. That was a real low point. But with hindsight, those movies turned out to be awful, so I dodged a bullet. If I'd got any of them, I wouldn't be where I am today. I never had the chutzpah to just come to LA and make it. I didn't have that confidence. I'm always surprised when I get a job. I never saw this in my horizon."
Reminds me of this classic: