I take your Hawking and raise you a De Niro.
Robert De Niro, considered one of the greatest American actors of all times, will arrive in Israel next month to attend the Israeli Presidential Conference and take part in President Shimon Peres' 90th birthday celebrations, Yedioth Ahronoth has learned.

De Niro, 70, has won two Academy Awards and two Golden Globe Awards, and has starred in 74 films, many of which have become box-office hits, including "The Godfather," "Taxi Driver," "Raging Bull" and "The Deer Hunter."

He is expected to arrive in Israel on a commercial flight on June 17 and stay in the country for 24 hours.

De Niro will participate in Peres' birthday party alongside legendary American singer Barbra Streisand, former US President Bill Clinton, former Soviet Union President Mikhail Gorbachev and Prince Albert of Monaco.

De Niro has visited Israel several times in the past. The last time was in 1996, when he arrived in the country in preparation for a film dealing with the war on terror.
I plan on being at the Conference so perhaps he'll be talking to me.
Update: Israel haters have claimed the following for a while:
There was an interview on Fox News with Robert De Niro as the guest. The host asked Robert about events related to Gaza.Robert replied: "Why do we blame Israel or the Israelis for what they do?"

The host was shocked because he knows that De Niro is always declaring his sympathy with Palestine.
De Niro looked at the host and saw his confusion…..…so he continued:

"Ok let me explain, if you were bitten by a mad infected dog, who will you blame? the dog or its owner? Definitely the owner, so, all the blame is on the USA Government's shoulders for adopting and supporting a state like Israel"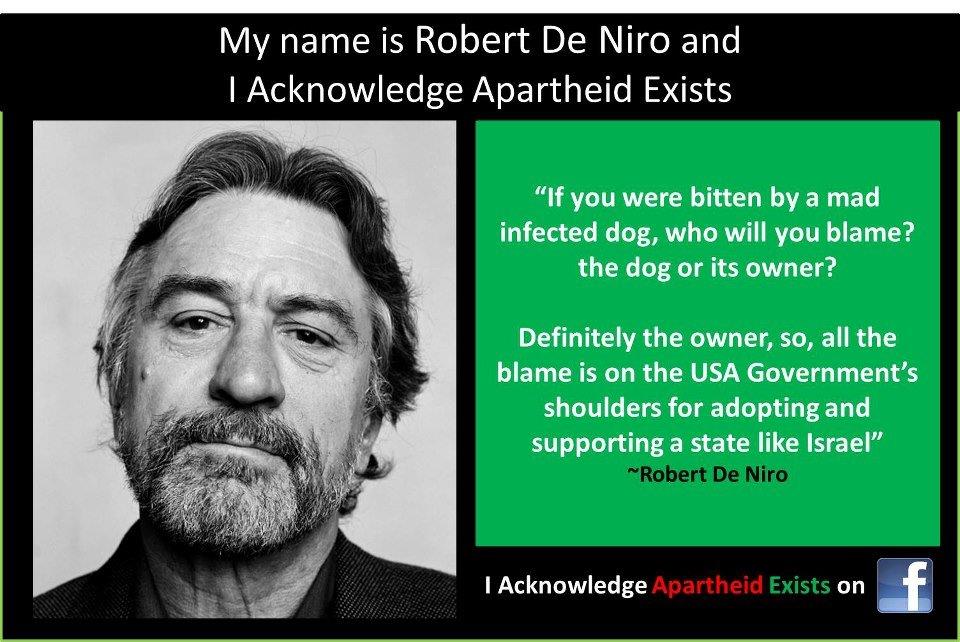 Yet no-one has ever been able to find this supposed interview.
I guess if this latest news is true, we can assume this quote is a lie.
Please help ensure Israellycool can keep going,
by donating one time or monthly