The following is copy pasted from a press release sent out by the organisers. It's important information so I'm passing it on. And lets not forget what a massive BDS Fail this whole event is.
My older post also has the google map I made of the track.
Jerusalem Formula – The Peace Road Show 2013
The Jerusalem Formula- the Peace Road Show 2013 will take place on the 13th and 14th of June.
Thursday 13.06.13 starting at 16.00 till 19.20
Friday starting at 11.00 till 14.20
The Jerusalem Formula has two main elements for viewing and photographing:
1. Showcases of the cars and bikes, taking place in 2 locations (locations will be marked in blue)
2. Car drive along the designated track around the city (marked in green)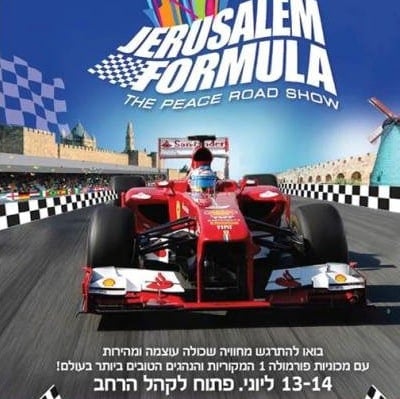 The entire event is completely open to the audience for viewing and documenting free of charge from most points along the track!!!
The course will start at the northern part of the train station compound- adjacent to the car showcase location, marked on the map by tack number 1.
TV and still photographers will be situated on the sidewalk by the Liberty Bell Park (in a defined area) across from show place number 1. This area is marked on the map by tack number 5.
Written press personnel will be seated in The Liberty Bell Park tribunes. This area is marked in map by the letters AA next to tack number 5, in area A.(An arranged list of invited personal will be made, each media organization will receive 2 invitations) .
Additional recommended documenting areas(for photographing etc') that won't require prearrangements:
Area B- Mamilla Avenue, marked in map by tack number 4. A show identical to the one being held in area A.
Old city walls and Tower of David- marked in map by tack number 5 – offer a nice view of cars passing by the old city walls.
Gan Habonim compound area – marked in map by tack number 2 – offers a nice view of accelerating cars on the slslope heading toward the old city walls.
The ROAD SHOW track
Cars participating in the show will depart from the northern part of the train station compound – David Remez roundabout. Drivers will pass Hebron Road, Hativat Yerushalayim Street, Yitzhak Kariv, King David and will conclude in David Remez Roundabout.
(Jerusalem Cinematheque – Tower of David – Mamilla – YMCA – Liberty Bell Park – Khan Theatre).
Event Line Up- Thursday:
–JERUSLEM PEACE ROAD SHOW
13.06.13 Thursday
Start
Description
Lapp
number
16:00
Drivers parade
Ferrari Challenge
3
Audi DTM
3
Max Biaggi
3
Buffer – Safety check
1
Ferrari Formula 1
3
Lotus
3
Ferrari Challenge
3
Chris Pfeiffer
Buffer – Safety check
Max Biaggi
3
Ferrari Formula 1
3
Audi DTM
3
Ferrari Challenge
3
Chris Pfeiffer
Buffer – Safety check
Ferrari Formula 1
3
Lotus
3
Ferrari Challenge
3
Buffer – Safety check
Ferrari Formula 1
3
Drivers parade
19:20
Israeli lap
1
Event Line Up- friday
14.06.13 Friday
Start
Description
Lapp
number
11:00
Drivers parade
Ferrari Challenge
3
Audi DTM
3
Max Biaggi
3
Buffer – Safety check
1
Ferrari Formula 1
3
Lotus
3
Ferrari Challenge
3
Chris Pfeiffer
Buffer – Safety check
Max Biaggi
3
Ferrari Formula 1
3
Audi DTM
3
Ferrari Challenge
3
Chris Pfeiffer
Buffer – Safety check
Ferrari Formula 1
3
Lotus
3
Ferrari Challenge
3
Buffer – Safety check
Ferrari Formula 1
3
Drivers parade
14:20
Israeli lap
1
Photo OP – Wednesday June 12th at 18:30 in The Mamilla Hotel
Still photos, videos and TV shooting of all the drivers that will participate in the event.
It will not be possible to interview any of the drivers during photo OP.
The photo OP will take 10 minutes, please come on time.
Private interviews of the drivers will take place after the photo OP.

The interviews are prearranged and have been approved.

The list of the drivers and interviewers will be transferred to appropriate medias by the public relations office.

It is not possible to pass on new requests.

Only prearranged interviews will be given
Press conference – Thursday June 13th at 11:30 in the Jerusalem Zappa Club
Speakers: Nir Barkat
Eugene Kaspersky
Raz Heymann
Giancarlo Fisichella – Event professional adviser
Rodolfo Gonzalez
Max Biaggi
Chris Pfieffer
Roy Nissani
Parking – train station compound parking (subject to availability).
Please take notice– The roads in the city will close on Thursday at 12:30 and will reopen at 21:25
Friday June 14th
9:00- Entrance of photographers to picture taking compound
11:00- Event opening
14:20 – Event closing
9:00- 16:25 – Roads in event and track area will be closed to traffic
Broadcast Mobile Units and Live Broadcasting
The event will be filmed by 18 cameras situated along the track and broadcasted live on Channel 5
It is permitted to position mobile units next to the main mobile unit and receive feed of the event.
The mobile unit will be located at the back of Mishkenot Sha'ananim, Yemin Moshe.
Only 8 mobile units will be permitted feed of event from central mobile unit – please coordinate ahead of time.
Area will close at 12:00 according to police insturctions, please situate units by this time.
List of Participating Drivers
| | |
| --- | --- |
| | |
| | |
| Giancarlo Fisichella | Scuderia Ferrari F1, F60 |
| Gonzalez Rodolfo | Marussia F1 Team |
| Daniel Mancinelli | Ferrari GT Challenge 458 |
| Valentina Albanese | Ferrari GT Challenge 430 |
| Antonio Fuoco | Ferrari GT Challenge 430 |
| Ragazzi Riccardo | Ferrari GT Challenge 430 |
| Roy Nissani | Roy will probably drive part time, on the Jerusalem Formula branded Ferrari Challenge |
| Alex Moiseev | Substitute driver |
| Vitantonio Liuzzi | Audi DTM |
| Vitantonio Liuzzi | LOTUS LMS LMP2 |
| Biaggi Massimiliano – Max | DUCATI panigale tricolore |
| Chris Pfeiffer | BMW F800R – ?????? ????? |
Giancarlo FISICHELLA – Scuderia Ferrari F1
Formula One star Giancarlo Fisichella previously drove for the Benetton, Renault, Force India, and Ferrari teams, among others, and today holds the position of Ferrari test driver. Fisichella was born in Rome and to this day is a passionate fan of his local football team, AC Roma. His first race win came at the Brazilian Grand Prix in 2003, and in 2005, during his time at Renault, he achieved his second victory in Australia. Later that year, he won his third race, this time in Malaysia. Soon after, he joined Scuderia Ferrari and had the pleasure of competing under its banner on a number of occasions. In recent seasons he has raced for the private AF Corse team, driving a Ferrari 458 in the GT World Championship. Fisichella will drive a Ferrari F1 car.
Rodolfo GONZÁLEZ – Marussia F1 Team
Originally from Venezuela, Rodolfo González made the leap from his home country to the UK at a very young age, believing that this was the only way for him to someday win a coveted F1 seat. He began his career in the British Formula Renault series and last year he was invited to take part in the Caterham F1 team's young driver test, after which the Marussia F1 team decided to take a chance on him as its test driver for the current season.
Daniel MANCINELLI – Ferrari F458 GT Challenge
Daniel Mancinelli is the leader among drivers in the Ferrari Challenge category, a championship exclusively designed for the Italian manufacturer's sports cars. Born in Piacenza, Italy, which is coincidentally also home to the Italian Toro Rosso F1 team, Mancinelli will drive the Ferrari F458 GT Challenge.
Marco CIOCI -Ferrari F430 GT Challenge
Marco Cioci from Rome has competed in Ferraris worldwide for many years, specializing in endurance events. He recently participated in a 12-hour race [K1] in the Persian Gulf. Cioci will drive a Ferrari 430 GT Challenge.
Antonio FUOCO – Ferrari F430 GT Challenge
Antonio Fuoco has been racing since he was 4. At just 17 he has managed to make a name for himself by winning several kart races throughout Italy. He took 3rd and 2nd place respectively in the 2009 and 2010 seasons of the Italian Karting Championship – a distinguished achievement in itself. Following his success in Italy, and with the help of the Italian Motor Sport Federation, Fuoco is today having his talent nurtured by the prestigious Ferrari Driver Academy, which will enable him to test drive the Ferrari team's F1 cars later this season. Fuoco will drive a Ferrari F430 GT Challenge.
Riccardo RAGAZZI – Ferrari F430 GT Challenge
The Italian Ricardo Ragazzi is an experienced veteran of the Ferrari Challenge, in which he drives a Ferrari F430. In 2008, he set a new record, becoming the oldest driver ever to win the European Challenge series, demonstrating highly impressive driving abilities. Ragazzi will drive a Ferrari F430 GT Challenge.
Valentina ALBANESE – Ferrari F 430 GT Challenge
Valentina Albanese, age 39, was born in Rome and began her motorsports career racing sports cars and participating in endurance races in Italy, achieving numerous impressive results. Albanese will drive through the streets of Jerusalem in the Mercedes C63 AMG, which participates in the Italian Superstars Championship for touring cars – a series now surging in popularity throughout its native country.
Vitantonio LIUZZI -Audi DTM – Lotus LMS LMP2
Vitantonio Liuzzi, the 32-year-old Italian driver, has started an impressive 80 grand prix for four different teams. The highlight of his career was winning 6th place, which he achieved for both Toro Rosso and Force India. After he unfortunately was not able to secure an F1 seat for the 2012 season, Liuzzi decided to change direction and for the past two years has participated in endurance races worldwide with great success. This year, he will compete for Lotus in the famous Le Mans 24-hour race. Liuzzi will drive the Audi DTM and the Lotus LMS LMP2.
Max BIAGGI- Ducati Panigale Tricolore
As the reigning Superbike world champion, Max Biaggi has become the most prominent name in the two-wheel category. Perhaps he is most famous for his fierce on-track battles each season with Valentino Rossi in their MotoGP races. Biaggi also previously won the 250cc World Championship four times and is considered one of the world's greatest ever motorcycle racers.
Chris PFEIFFER -BMW F800R
One of the event's stars is stunt rider Chris Pfeiffer, who will perform incredible feats on his BMW motorcycle during the Jerusalem Road Show. Pfeiffer will ride the BMW F800R.
Israeli Drivers
The Israeli Motor Sport Association – Motorcycles and ATVS
Track motorcycles: Avishai Hasson Super Bike
Shawn Ben Yakar Super Bike
Super Motor Motorcycles: Lee Barda Super Moto
Elad Elyhav Super Moto
Motocross Motorcycles: Maayan Lavi Motocross
Alon Lavi Motocross
Itai Lavi Motocross
Israel Racing Drivers Association IRDA
Rally Sprint: Nir Ben-Ari+ Dubi Miller Subaru Impreza
Eyal Ben-Ari+ Liron Ben-Ari Ford Escort (collectors car)
Ehud Lavi Subaru Impreza
Koby Cohen Subaru Impreza
Nadav Yaron+ Michel Gadg Subaru Impreza
Rally Drivers Association:
Rally: Ohn Jacobson Subaru B3
Victor Fabian Subaru Impreza
Drift: Gnadi Surzan Drift
Yaniv Gabai Drift
Itzik Brill Buggy
Off road vehicle Association:
Rally Raid : Hillel Segel+ Raz Heymann BMW/ Pajero T1
Nitzan Shekel+ Ido Shekel T1
Yoav Shitai + Yaron Cohen Trophy Truck
Eyal Lavi + Itzik Hamo Trophy Truck
Dadi Shprontz+ Gai Gotleiv Pajero T2
Viko Assulin + Alon Assulin Magnum T2
Yuval Sharon Light Off Road Vehicles CAN AM
Danny Perel+ Omer Perel Light Off Road Vehicles RZR800
Mor Magidish Light Off Road Vehicles RZR800
Tom Brill Light Off Road Vehicles RZR900
Doron Vinter KTM motorcycle
Navigable Vehicles:
Amir Raviv Home made navigable vehicle
Yoram Yadin+ Ira Avni Home made navigable vehicle
Karting Association:
Amit Fox
Sofi Golan (switching driver)
Eyal Kaniobitzki
Tal Weissman (switching driver)
Hen Shriki
Michael Sherling (switching driver)
Adar Melamed
University Formula:
Gill Zachai
Ronny Dekel (Substitute driver)
Ferrari Challenge 430
Roy Nissani
Closed Driving Routes:
Roads will be shut to traffic on:
Thursday, June 13th, hours: 13:00-21:30
Friday June 14th, hours: 9:00-16:30
Alternative Driving Routes:
From northern to southern Jerusalem: Tzanchanim – Sacks- Haneviim – Kia"ch – Agripas- Bezalel – Ben Zvi.
From southern to northern Jerusalem: Hebron Road- Miriam Hahashmonait- Beit Lehem Road – Emek Refaim – Martin Luther King – Yitzhak Elchanan – Shalom Aleychem – Keren Hayesod.
Additional alternatives: Menachem Begin Road (Road 4)
Parking arrangements:
Parking will not be permitted on the following streets: Hebron Road, Between Navon Roundabout till Hativat Yerushalyim, starting Tuesday June 11th till Friday June 14th.
David Remez street, starting Wednesday the 12th till Friday the 14th.
King David street, Liberty Bell Park parking and part of the train station compound parking starting Thursday the 13th till Friday the 14th.
Mamilla and Karta parking lots will be closed on Thursday, the 13th, hours: 10:00-20:00, and Friday the 14th, hours: 8:00- 13:00.
Audience is asked to park in alternative parking lots. Any car found parking in the listed parking zones will be towed!
Towing parking lot: Train Station Compound parking lot.
Owners of local's parking permits will be allowed parking in near by areas.
Arrival of audience to show:
We ask the audience to please use the light rail and shuttles in order to reach show.
Free shuttles will run from Teddy parking lot and Kiryat Haloem Parking lot to the Show on Thursday the 13th of June, starting at 14:00 tll 21:00, and on Friday June 14th from 9:00 till 16:00.
Light rail: The light rail will run more frequently for the audience arriving at the show's convenience, please purchase tickets ahead of time.
Public transportation: There will be changes in public transportation, for more information please contact *8787.
City information center: dial 106 or 02-5314600.