When Pigs Fly (And Lie)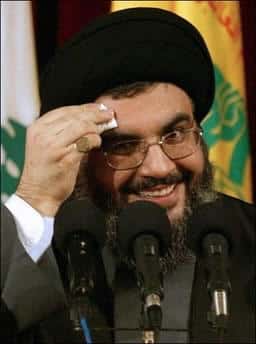 Chief Hizbully Hassan Nasrallah says he's ready to go fight in Syria if need be.
"If the battle with these terrorist Takfiris requires for me personally and all of Hezbollah to go to Syria, we will go to Syria," he said, drawing thunderous applause from thousands of supporters gathered in a village in south Lebanon bordering Israel. The crowd watched him speak on a large screen via satellite link.
Methinks he is full of sh*t. Especially when his organization is drawing fire from Israel, and he's too afraid to go outside and launder his underpants.
Not that pigs don't sometimes have their airborne moments.
United Nations Secretary-General Ban Ki-moon met with students at the UN headquarters in Jerusalem on Friday afternoon, and admitted that his organization was biased against Israel.

Responding to a student who said Israelis felt their country was discriminated against in the international organization, Ban confirmed that there was a biased attitude towards the Israeli people and Israeli government, stressing that it was "an unfortunate situation."

—-

Addressing the attitude towards Israel, Ban said that the Jewish state was a UN member and should therefore be treated equally like all other 192 member states. Unfortunately, he added, Israel has been criticized and sometimes discriminated against because of the Mideast conflict.