Canadian PM Stephen Harper Is Coming To Israel Tomorrow
Canadian Prime Minister, Stephen Harper is making an official visit to Israel this week.
Israel and The Right Honourable Harper have long been friends as he has shown is support for Israel again and again in its policies and is continuing to show that it's becoming the only sane voice at the UN.
We just have one *tiny* little request from Mr. Harper.
Someone, it appears by some innocent accident, forgot to fill in some details on Israel's page in the Government of Canada Foreign Affairs website.
It appears in haste, someone neglected to fill in Israel's capital city.  Well, Israel obviously has a capital city. It is the city in which Israel has placed all of its governmental institutions, including the Knesset, the Supreme Court, the Bank of Israel, the National Police Headquarters to name a few.  And it has a name.
So I've taken the liberty of correcting the page for them.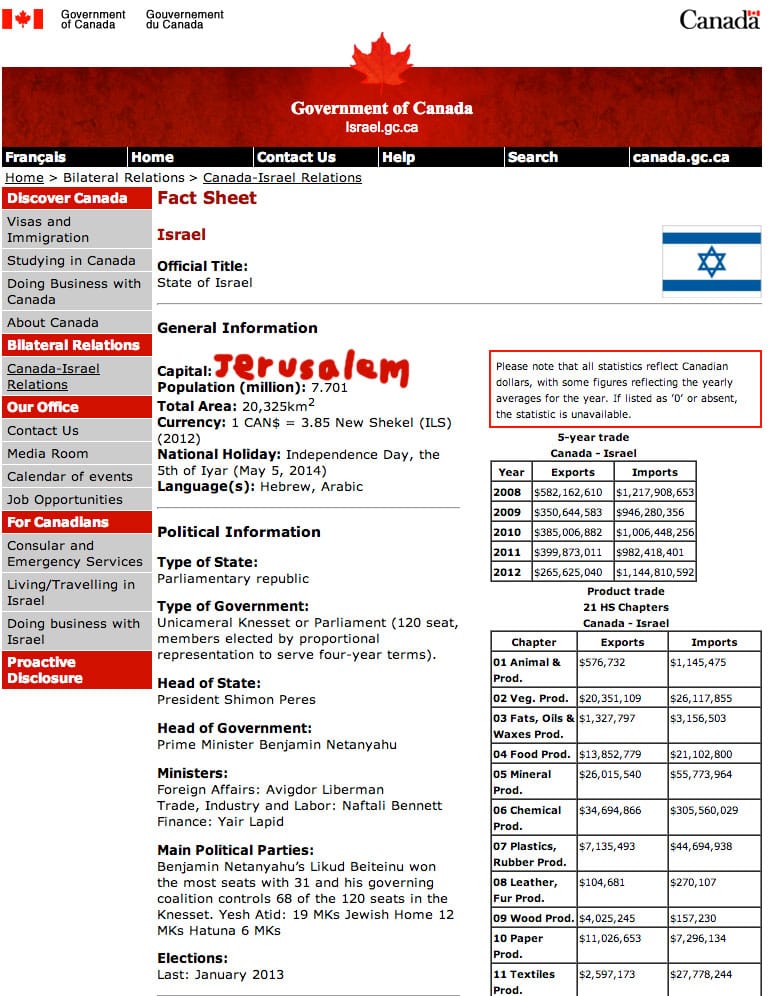 We would however like The Right Honourable Stephen Harper, P.C., M.P., Prime Minister of Canada, to ensure they make a more official and permanent change to this.  We're not asking for much really.
Oh Canada, you are a friend of Israel. Unlike BBC who obviously isn't.  Please, update your fact sheet on Israel.  Jerusalem is Israel's capital.