The Cat Who Barked Up The Wrong Tree (Or Is Just Barking Mad?)
Earlier today, I received the following email:
Clicking on the link took me to a GoFundMe page, in which Ms Watters is asking for money to fund a trip to Gaza.
the Organization CODE PINK is
CODEPINK is a women-initiated grassroots peace and social justice movement working to end U.S. funded wars and occupations, to challenge militarism globally, and to redirect our resources into health care, education, green jobs and other life-affirming activities. – See more at:http://www.codepinkalert.org/article.php?list=type&type=3#sthash.gBkKMI1v.dpuf

We have become famous for confronting the warmongers, whether in the halls and hearing rooms of Congress, the national conventions of both the Republicans and Democrats, George Bush's fundraisers, the publicity tours of Karl Rove, Condi Rice, Donald Rumsfeld and others, and Nancy Pelosi's house. – See more at: http://www.codepinkalert.org/article.php?list=type&type=3#sthash.gBkKMI1v.dpuf
March 8th, International Women's Day, to see firsthand how the Israeli blockade is making life intolerable in the besieged Gaza Strip.

We, the Palestinian women of Gaza are being forced into isolation by the Israeli policies of apartheid. We continue to live the terrible consequences of the 7-year-blockade and the ongoing occupation of the Gaza Strip. We call on you to stand in solidarity with us to end this unjust, inhumane, and illegal blockade.
Besides the terrible grammar, what struck me was the audacity – or perhaps stupidity – of an anti-Israel woman like this sending me – a pro-Israel blogger known for ripping such Israel haters a new one – a mail asking me to either fund her trip or help publicize it.
So I decided to find out more about her from her Facebook page. Here's what I discovered:
She's a troofer: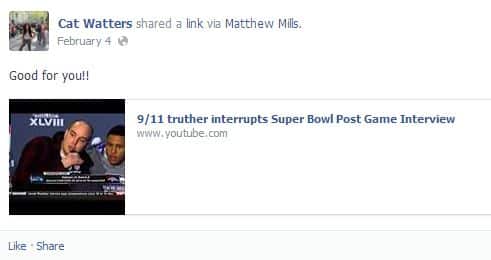 She's rather antisemitic:
She's a BDSHole:
And..huh?
This one has me stumped. That cartoon is actually portraying Hamas as the villains, using their women and children as human shields.
Could it be that Catherine Watters is one of the most confused individuals on the planet?
Or is she some kind of evil genius who just found a way for me to publicize her jaunt to Gaza?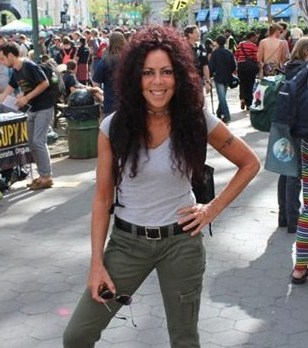 I'll go with option A.