Arab Boy Murdered; Israel Haters Out For Blood
An Arab boy was found dead this morning, and police are investigating both the possibility that it was revenge attack for the murder of the three Israeli boys, or an honor killing.
The police found the body of an Arab teenager in the Jerusalem area on Wednesday and were investigating a possible connection to the reported kidnapping of a Palestinian youth in East Jerusalem earlier in the day, a police spokesman said.

The incident occurred only a day after Israel buried three teenagers who had been kidnapped on June 12 and whose bodies were found dead in the West Bank on Monday.

The possibility the boy was kidnapped and killed as part of revenge attack was being investigated, as was the possibility the boy was killed as part of a domestic issue or "honor killing". Ynet has learned that the body was charred and showed signs of violence.

Palestinian residents told a Reuters photographer that they saw a teenager forced into a vehicle outside a supermarket in the Shoafat section of East Jerusalem on Wednesday.

Micky Rosenfeld, a spokesman for Israeli police, said police had been notified of a youth "pulled into a vehicle and possibly kidnapped" and roadblocks were set up in search of suspects. The Shin Bet are also involved in the incident.

Later "police discovered a body in the Jerusalem forest and were looking to see if there was a connection between the missing youth and the body that was found," Rosenfeld said.
While there is no evidence as to who killed the boy or why, the anti-Israel crowd – such as the DouchebloggerTM Richard Silverstein – is predictably latching on to the revenge attack scenario.
Palestinian kidnapped, murdered by 3 Israeli settlers. • http://t.co/PPRAByyhdc

— Tikun Olam (@richards1052) July 2, 2014
Breaking: Palestinian Youth Kidnapped, Murdered by Israeli Settlers http://t.co/FaCET9IfiY Palestinian Instagram users have reported that a… — Tikun Olam (@richards1052) July 2, 2014
16 yr old Palestinian murdered in past few hrs.  Settlers confuse themselves w God, think "Vengeance is mine" refers to them.

— Tikun Olam (@richards1052) July 2, 2014
Suspected radical Israeli settlers kidnapped this boy and murdered him.Body found few hrs ago http://t.co/3nme8DRIuh pic.twitter.com/gvDqvxGjql — Tikun Olam (@richards1052) July 2, 2014
But even the Instagram user he mentions does not accuse "settlers" of perpetrating the murder with certainty.
Video of announcement just now, from the loudspeaker of my local mosque, that ibn el balad Mohamed Hussein Abu Khdeir is reported missing, apparently taken by 3 Israeli settlers just before Fajr prayers – this is just opposite my home. People in the hood have gathered in the streets, there is still some confusion as to what exactly happened. Israeli helicopters are hovering above, seems this will hit the news any time now once things become clearer. Let's make dua Mohamed is safe inshallah. #ramadan #jerusalem #palestine #?????_??_?????_???
Note also the detail of Israeli helicopters "hovering above," proof Israel is taking the murder very seriously, in an attempt to bring the perpetrators to justice.
Meanwhile, Silverstein also uses a tweet by Israel's Hatzalah organization as "proof."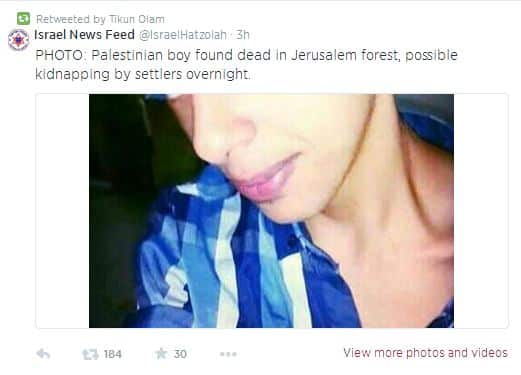 Tellingly, he chooses to ignore subsequent tweets of theirs.
Several Palestinians under investigation after being pulled by Police driving suspicious vehicle possible related to kidnapping situation.

— Israel News Feed (@IsraelHatzolah) July 2, 2014
All indications so far point to an inner Palestinian matter, nothing related to Israeli settlers. — Israel News Feed (@IsraelHatzolah) July 2, 2014
The investigation is still ongoing, so we need to wait and see what it yields. If it turns out that Jews perpetrated this heinous act of murder, I hope they are brought to justice and punished to the full extent of the law.
I am certainly not alone in feeling this way. Almost all of my fellow Israelis are sickened by the murder of this young boy, and as I mentioned, our authorities are doing what they can to bring the murderers to justice. Our politicians – whether on the Left or Right – have condemned this outright.
From Minister Uri Ariel, Jewish Home: (translated) The murder Arab boy and burning his body this morning is a despicable act and shocking. I call the police to spare no efforts, to reach the killers fast and bring them to justice

From Nir Barkat, Mayor of Jerusalem: I vigorously condemn barbaric murder of boy in #Jerusalem. I am confident security forces will bring perpetrators to justice.

From Dani Dayan, Yesha Council Foreign Envoy: More indications that murder of the Shuafat boy is intra-Palestinian criminal affair. It doesn't matter for the poor boy. Nevertheless if turns out that we became like them, it is terrible. Just not that.

From Minister Tzipi Livni, HaTnua: (translated): Murder of the Arab in Jerusalem. Shocking incident that must be condemned, zero tolerance for it, work to find the killers and bring them to justice.
You certainly won't find photos of candies being handed out.
Update: It is not just the Israel haters. Reports like this are framed in a way as to already blame Jews for the murder.
Update: The family of Naftali Frenkel, one of our murdered boys, has this to say:
"If the Arab youth was murdered because of nationalistic motives then this is a horrible and horrendous act. There is no difference between (Arab) blood and (Jewish) blood. Murder is murder. There is no forgiveness or justification for any murder," said Yisahi Frenkel, Naftali's uncle.