Antisemitism Rears Its Ugly Head On Facebook Translate
Today, former Mossad Chief Meir Dagan passed away from cancer. It goes without saying that the haters were not exactly eulogizing him.
There must be some sort of dark irony in that Meir Dagan got his faulty kidney from Belarus, part of Putin's gulag.

— Tikun Olam (@richards1052) March 17, 2016
Among those whose deaths he's responsible for, I expect Meir Dagan will be seeing Ben Zygier & Mahmoud al Mabouh in heaven–or Hell.

— Tikun Olam (@richards1052) March 17, 2016
But among those eulogizing him was Naftali Bennett, Israel's Minister of Economy.
https://www.facebook.com/NaftaliBennett/posts/1079541218734212
Facebook translated this as follows.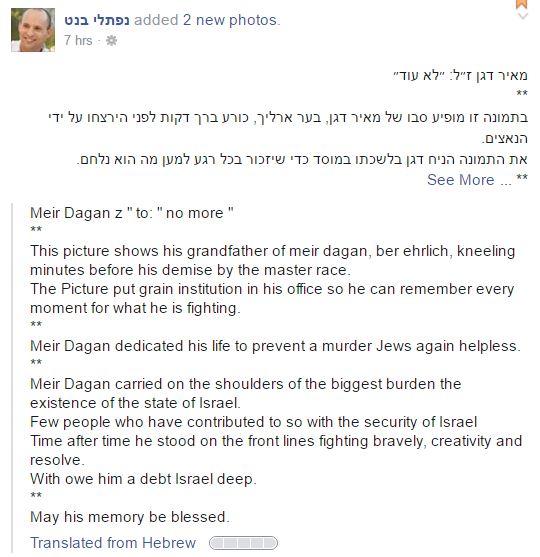 Meir Dagan z " to: " no more "
**
This picture shows his grandfather of meir dagan, ber ehrlich, kneeling minutes before his demise by the master race.
The word translated this way is הנאצים, the Hebrew word for "the Nazis."
Now I was under the impression that Facebook uses Microsoft Bing in some cases. Here, it would seem not to be the case – the below screenshot was taken from an app that uses Microsoft.
Which now begs the question: How did Facebook come up with this disgusting translation?
I simply do not have enough knowledge of how the mechanism works. Is this a matter of an antisemitic Facebook employee? Or rather many antisemites "gaming" the system by suggesting this vile alternative translation for "Nazi"? And how many such antisemites would it take for Facebook to change the translation in such a way?
Either way, this is deeply disturbing – and upsetting.