BDS-Hole Hearts Hamas Song To Bomb Tel Aviv
DC-based lawyer Jennifer Gorelik is a rabid Israel hater and BDS-hole. Going by the name Thalwen on Twitter, her tweets regularly scrape the bottom of the barrel.
Like this retweet of a nasty Jew hater on Twitter in the wake of Hallal Yaffa Ariel's brutal murder.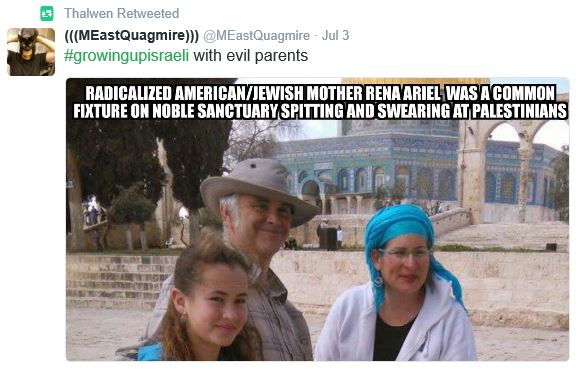 Or these in the wake of Eli Wiesel's passing.
And while BDS-holes claim to be for non-violence, she's clearly pro-terror.
She also seems more than ok with Hizbullah…
Be that as it may, this tweet she was caught tweeting yesterday (before she deleted it) is still shocking.
The Hamas song she tweeted is this:
https://youtu.be/MRB0WKU9sIA
And here's that "great soundtrack" she refers to.
https://youtu.be/lt47llMalmc
…in which Hamas threatens to strike Tel Aviv (population of over 400,000).
Is this what someone who genuinely wants peace would ever support?
Gorelik is not alone. As I time and again point out on here, the Israel haters and BDS-holes really are the nastiest bunch.
If you ever find yourself on their side, seriously consider what you are doing with your life.
Hat tip: Mikarov