More Jew Hatred From Anti-Zionist-Not-Antisemite 'Jil Love' Jordina Salabert
Jordina Salabert aka Jil Love, the self-proclaimed 'Artivist' who put on a show straight out of Der Stürmer, seems to think my calling her out for antisemitism is a huge joke.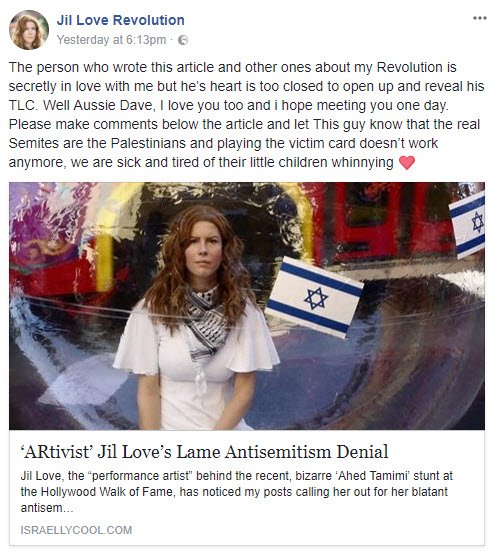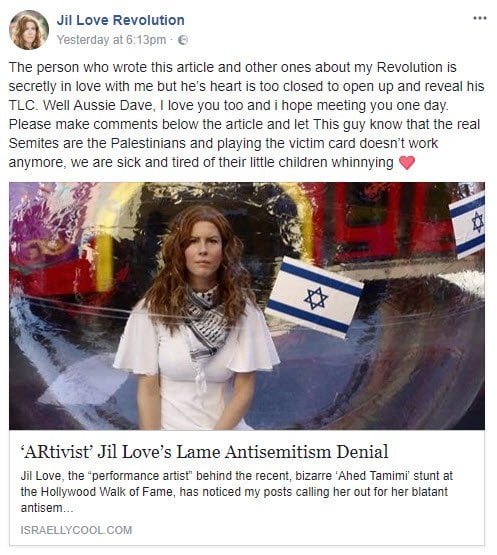 Notice the total lack of self-awareness. Immediately after suggesting I am secretly in love with her (an offensive suggestion to say the least), she makes the frequent claim of antisemites that Jews are not the real semites.
A look at her social media posts – as Jil Love but also under her real name – shows this is her not her first time questioning our genealogy
And there's a whole lot more indicating the kind of Jew hatred we have seen from other anti-Zionists-not-antisemites I have exposed before.
Like referring to Jews as aliens or "reptilian" (note the first post below includes "anti-Zionist" Jew George Soros, who does a lot to undermine Israel, so she cannot claim the post is only "anti-Zionist")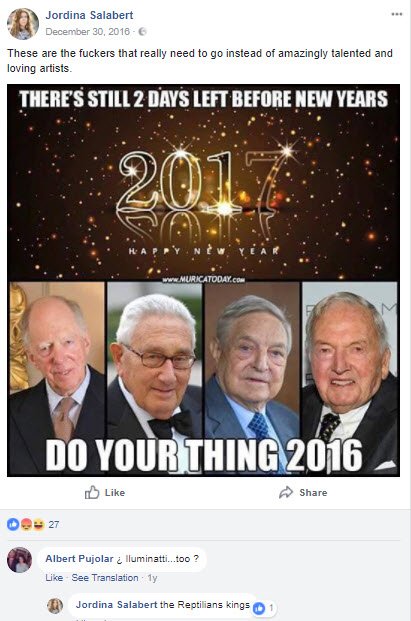 Not surprisingly, she is a fan of antisemitic "reptilian" conspiracy theorist David Icke
We are not just reptilian, though. We are also Satanic.
She dehumanizes Jews
and loves to post examples of "bad" Jews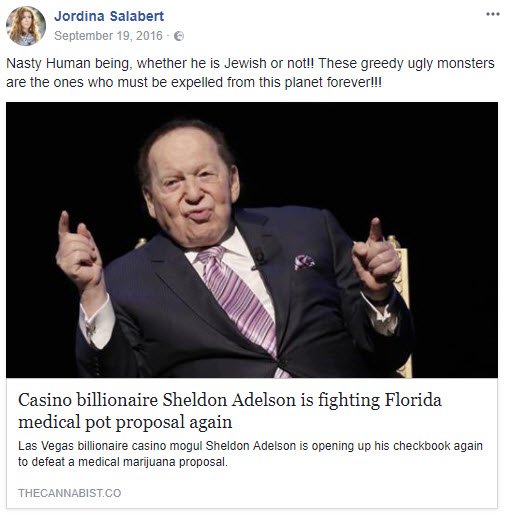 compare us to the Nazis
while suggesting we play the "Holocaust card"
She also claims we are behind ISIS
and I am guessing she thinks we are also behind 9/11
Jordina/Jil, know that these posts about you are a result of my disgust at your hideous, antisemitic "protest." And today, being International Holocaust Remembrance Day, seems like an appropriate time to further expose your antisemitism. I won't allow the new Nazis to hide behind false claims that they are "only" opposing Israel's actions.
P.S thank you for playing Anti-Zionist-Not-Antisemite. Unfortunately, you lose!