A Jewish "anti-racist activist" and a member of Jewish Voice for Labour are part of the line-up at a meeting to discuss dismiss the antisemitism of Jeremy Corbyn and company.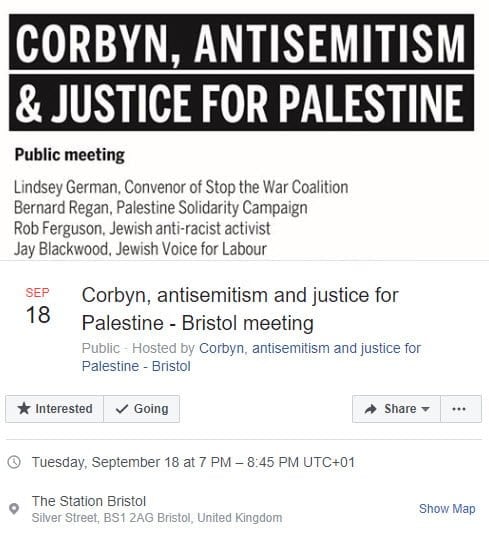 Following the London meeting of the same name which gathered 500 at Conway Hall on 21 August, and the escalation of public accusations in recent days….

Speakers include:
– Lindsey German, Convenor of Stop the War Coalition
– Bernard Regan, Palestine Solidarity Campaign national committee
– Salma Karmi-Ayyoub, British-Palestinian human rights lawyer
– Rob Ferguson, Jewish anti-racist
– Jay Blackwood, Jewish Voice for Labour
Chair: Michal Nahman

Criticism of Israel is being conflated with antisemitism in ways that threaten free speech and the right to protest while silencing Palestinian voices. We must vigorously oppose all forms of antisemitism, but we can't let smears be used to silence criticism of the Israeli state.

Jeremy Corbyn – a lifelong anti-racist in all respects and prominent figure in the Palestine solidarity movement – is being labelled an antisemite and a racist by those who oppose his politics and leadership of the Labour Party.

This meeting will discuss the importance of challenging any attempt at a witch hunt, strengthening the struggle for Palestinian freedom while maintaining zero tolerance for antisemitism and all forms of racism.

In order to cover the costs of the venue we will be asking for donations on the door for those who are able to afford it. The venue has a large capacity so let's make it a big meeting.

The organisers reserve the right to refuse entry.
We already know what happened at the last such meeting on August 21. And we already know why the organizers reserve the right to refuse entry – no Jews allowed (or at least Jews who support Israel).
Well, actually, now the net has widened to no Jews who take seriously the holiest day in the Jewish calendar – that's right, this meeting to let people know antisemitism does not exist in the Labour party has been scheduled for the evening of Yom Kippur.
I don't think at this point there is anything more these Labourites can do to convince us antisemitism is thriving in their party. Perhaps advertise they are serving bacon bits at the meeting?
Please help ensure Israellycool can keep going,
by donating one time or monthly