Hamashole Abdel Rahim Abbas Goes Out With A Bang
Those nincompoops over at IfNotNow and Na'amod just got someone else to recite Kaddish over: Hamashole Abdel Rahim Abbas (who I assume was not related to PA leader Mahmoud Abbas – and if he was, boy would those family celebrations have been awkward).
And like so many Hamasholes before him, he went out with a bang.
A member of the Hamas security forces was killed Wednesday in an accidental explosion in the Gaza Strip, the Palestinian terror group reported.

The military wing of Hamas announced the man was Abdel Rahim Abbas, 42, a local commander of the Hamas security forces.

The Hamas-run Gaza interior ministry said the explosion happened at the administrative headquarters for the police's bomb disposal unit and was a result of explosive materials catching on fire during an inspection.

Police and civil defense units extinguished the fire caused by the explosion, the ministry added.

A Hamas security source said he was trying to neutralize an Israeli munition.
So let's get this straight. The Hamas "bomb disposal unit" finds munitions lying around and brings them into their headquarters (which I assume is in a populated area) to neutralize.
Yeah, I'm not buying it. Not that what I think really happened – he was wiring a bomb – was a smart thing to do at police headquarters either.
Here is our Darwin Award winner in action, performing a magic show in what seems to be a demonstration on wiring a bomb.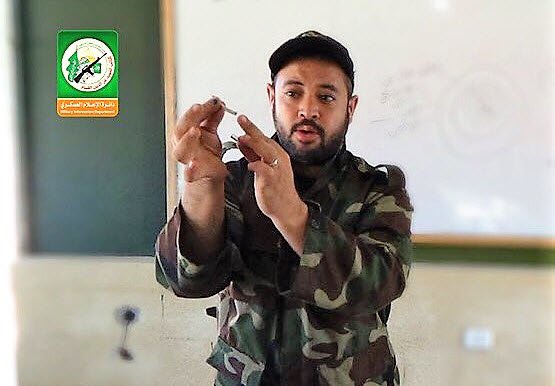 It is a shame this premature explodation didn't happen during one of these classes – then we'd be reading about more dead Hamasholes.
Meanwhile, the machine that goes Bing Bing translate provides us with translation fail of the week year.
I think they meant "Chump."
Hat tip: Legal Insurrection