AMP's Palestine Convention Has Way Too Many Terror Connections to Ignore
A few days ago, I posted about American Muslims for Palestine's Palestine Convention 2018, featuring a star-studded cast of antisemites, Israel haters and terror supporters, such as Hatem Bazian and Linda Sarsour.
It turns out there are a lot of convention organizers and speakers connected to US-designated terror organizations:
Convention chairman, Salah Sarsour, who fundraised for the Holy Land Foundation (HLF), an organization that was shut down and its members convicted in the US for funneling over $12 million to US-designated terror organization Hamas
Abdelbaset Hamayel, a member of the Steering Committee for the convention, who was the Director and Secretary General of the Islamic Association for Palestine, an unindicted co-conspirator in the Holy Land Foundation case and described as Hamas' public relations arm in the US
Convention speaker Kifah Mustapha, the Illinois Representative and Head of Chicago Office for the Holy Land Foundation, who was listed as an unindicted co-conspirator in the case
Convention speaker Osama Abuirshaid, a former employee of IAP who served on the IAP board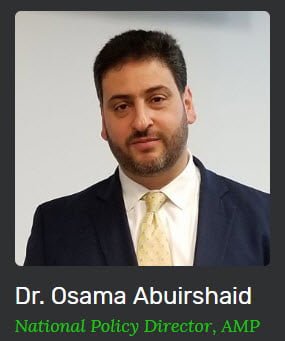 Convention speaker Leena Al-Arian, daughter of Sami Al-Arian who was the North American leader of the US-designated terror organization Palestinian Islamic Jihad (PIJ), and who was charged by the Department of Justice with racketeering.
Convention speaker Nida Abu-Baker, the daughter of Shukri Abu Baker, the founder and manager of the Holy Land Foundation, who was sentenced to 65 years in prison for his role.
Convention speaker Mairam El-Khatib, the daughter of Hussein El-Khatib, an unindicted co-conspirator in the Holy Land Foundation case
Convention speaker Othman Atta, also a speaker for IAP
---
As you can see, we are not talking about one or two dodgy characters – this is a smorgasbord of people somehow connected with terrorism.
And this conference is being held in plain view, on US soil.