A New Flood-Related Libel
One of the tactics of the palestinians and their supporters/Israel haters is to accuse Israel of doing things they themselves not only do, but have mastered.
For instance, terrorism. They almost single-handedly brought it into the mainstream, yet they accuse Israel of it.
Now that their terror tunnel escapades are getting more airplay, they clearly needed to find a way to accuse Israel of the same thing.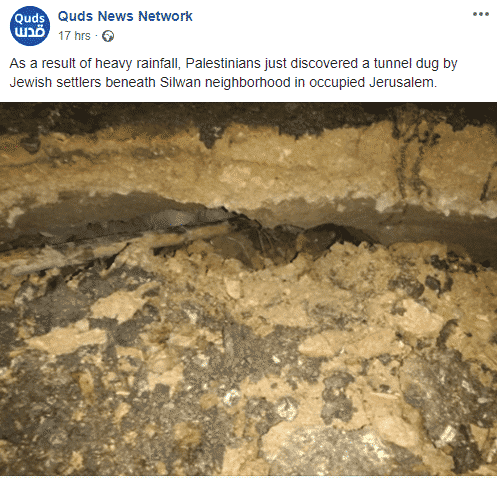 While there is no explanation of the purpose behind this supposed tunnel, I think the implication that it is being used by Jews to infiltrate their town is clear. It is apparently secretive after all, only revealed by some fortuitous rains!
Of course, this is not the case: even other anti-Israel sites have been speaking about these public tunnels for a while now.
Manal and Mohammed stand in the front room of their house in Silwan, pointing to the yawning cracks zig-zagging the walls. Their home has stood for decades, like many in this Palestinian district south of Jerusalem's Old City – but the cracks are something new.

They began to appear when Israel started digging tunnels under the streets to create a new tourist attraction, and find evidence of the three-millenia-old "City of David".

—

The Israel Antiquities Authority is excavating sites in Wadi al-Hilweh, which is close to al-Aqsa mosque and the wall of the Old City. Ir David, an Israeli settler foundation, is sponsoring the excavations, linked to the new "City of David" attraction.

Its completion, including a Roman-style "avenue" built over streets that have been home to generations of Palestinians, would cement the position of the 450 illegal settlers currently living in Silwan, and doom the 10,000 Palestinian they live beside under heavy guard.
Yes, these tunnels are archaeological in nature, and the City of David really did exist.
The palestinians and their supporters/Israel haters need to learn that unlike what rain does to holes in the ground, Jewish history cannot be erased.