'Shirley Temper' Ahed Tamimi Encourages Murder of Israeli MK Yehuda Glick
Everyone's favorite Pallywood star, 'Shirley Temper' Ahed Tamimi seems to have learned her lesson from her time in Israeli jail, using her new-found freedom to promote peace between palestinian Arabs and Jews.
Just kidding. She is encouraging the murder of Israeli MK Yehudah Glick on her Instagram account.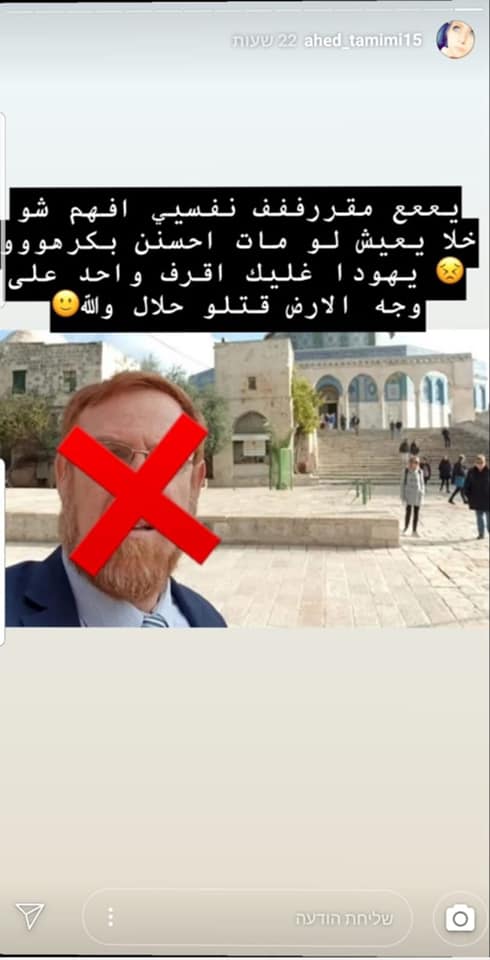 "Eww disgusting I wanna know what made him survive. If he died it would be better. I hate him. Yehudah Glick is the most disgusting person on earth. I swear to God killing him is legal (Hallal)"
This did not escape Yehudah's notice, who posted this on Twitter
איזו מתוקונת עהאד תמימי הזאת, ממש!

הנה לדוגמא מה שהיא כתבה עליי היום באינסטוש שלה :

"נפשי נגעלת כשאני מבינה שהוא נשאר בחיים, טוב יותר שהיה מת. אני שונאת אותו.
יהודה גליק האדם המגעיל ביותר על פני האדמה.
מותר (לפי הדת) להרוג אותו."

אין מתיקות כזאת בעולם pic.twitter.com/hA5UF4jOJ6

— Yehudah Glick יהודה גליק يهودا جليك (@YehudahGlick) February 28, 2019
What a sweetie Ahed Tamimi is, really!

Here's an example of what she wrote about me today in her Instagram:

"My soul is disgusted when I realize that he remains alive, better that he was dead." I hate him. Yehuda Glick is the most disgusting person on earth. it is permissible (according to religion) to kill him."

There's no such sweetness in the world.
Yehudah is no stranger to murder attempts – he was shot by a palestinian terrorist in 2014, but thankfully survived.
And Tamimi is no stranger to calling for the murder of Jews.
Here's hoping she becomes reacquainted with prison again real soon.
Hat tip: Jonathan Elkhoury (translation by StandWithUs)