No, I don't mean he made the team.
Nor do I mean he just got circumcized.
I mean he went ahead and did this:
Arsenal's Egyptian player Mohamed Elneny cuts Israeli flag on the tail of El Al aircraft from picture after protests from his Twitter followers. Original tweet at the bottom has now been deleted pic.twitter.com/ptBejHSy23

— Ahmed Al Omran (@ahmed) April 17, 2019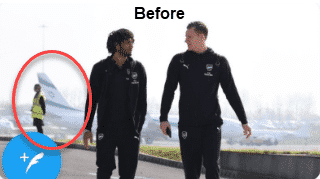 Unlike other examples of celebrities removeing references to Israel or the flag itself from their social media postings after being attacked by Israel haters, I do not think Elneny needed too much prodding, considering he is a hater himself.
For an illustration of his cold-eyed focus, consider the episode at the start of the 2013-14 season, when Basel were drawn to play Maccabi Tel Aviv in the Champions League third qualifying round.

There was huge pressure in Egypt on Elneny and Salah not to play and Salah sparked a political stir when he said he would not travel with the squad to Israel. He would change his mind but he refused to shake hands with the Maccabi players before both ties.
Another example:
Egypt and Basel midfielder Mohamed Elneny wore a wristband bearing the flag of Palestine and said Gaza is "in his heart" after playing with his Swiss team in a UEFA Champions League game in Tel Aviv on Tuesday.
As a national of Egypt, an Arab country actually supposedly at peace with Israel, Elneny has an opportunity to be a good role model to his legion of fans. Instead, he is stoking the fans of hatred.